World Squash Day returns on Saturday October 12th with ambitious plans to attract one million new players to the game over the next decade.
The theme for 2019 is for every club on the planet to open their doors and hold a free taster session called The Big Hit.
Clubs and federations will be supported by social media campaigns and a new WSD website www.worldsquashday.net has been set up to provide further ideas and promotional material which can be downloaded for free.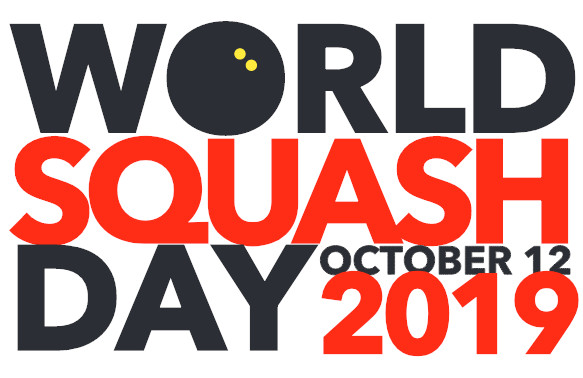 World Squash Day founder Alan Thatcher said: "Our aim is to attract 100,000 new players to the game this year.
"Every club and squash facility is invited to host a Big Hit taster session to promote the health benefits that squash has to offer, alongside the fun and friendly social atmosphere that is a universal part of our great game.
"Each club can create their own pathways to look after those newcomers, including weekly group sessions, mentors to help them on their way, and social evenings to complement the huge fitness buzz that squash is guaranteed to deliver."
World Squash Day is endorsed by the World Squash Federation, PSA, and national federations across the globe.
"World Squash Day is a wonderful annual initiative," said World Squash Federation president Jacques Fontaine.
"It provides such a great opportunity for clubs everywhere to show the public who have not yet experienced it just what makes our sport so popular around the globe."
Many nations are already planning campaigns to support the push to attract a new generation of players.
England Squash have launched one of the biggest development initiatives in the history of World Squash Day. In partnership with racket brand Karakal, they are offering equipment bags including 18 rackets, plus a grant of £250, to the first 100 clubs to sign up. To date, 76 clubs have signed up to support the initiative.
England Squash Director of Sport, Mark Williams, said: "World Squash Day serves as a springboard to inspire the nation to pick up a racket and we are thrilled to have Karakal's support to grow the game in England.
"This year, we've set the ambitious target of engaging 5,000 players through World Squash Day events in England and we are encouraging clubs to sign up and help showcase our fantastic sport to their local communities. Delivery partners will receive a host of incentives including the Karakal kit bag and a £250 grant to grow their programmes."
Thatcher added: "We hope this fantastic event will capture the imagination of the wider public and attract new people to the game. To make it a huge success, we need the support of every squash club and federation.
"Next year on World Squash Day we plan to launch Squash: Project 200 as we begin the 10-year countdown to the 200th anniversary of the birth of squash.
"If we can attract 100,000 new players to the game every year over the next decade, that's one million new players, all buying rackets and equipment, spending money on hiring courts, supporting their local clubs and federations, and helping to create stars of the future."
Please contact Alan Thatcher for further information: [email protected]
Website: www.worldsquashday.net