After two riveting semi-finals which went to the wire, the top two seeds Egypt, the defending champions, and England, the second seeds, will contest the 2019 final of the WSF Men's World Team Squash Championship in Washington DC – It will be the two powerhouse nations' fourth successive final clash.
23 nations have been competing in the 26th edition of the championships, hosted by US Squash, at Squash on Fire, the new state-of-the-art eight-court facility in the US capital.
Truly the dark horses of the 2019 championship, 11th seeds Wales startled a number of higher-seeded teams to earn their place in the last four for the first time for two decades – and would have been expected to meet their match in top seeds Egypt, the defending champions with a squad made up of four players in the world's top ten.
But, to claim their anticipated place in the semis, Egypt were taken to a decider by Germany in the quarter finals after the fifth seeds won the top string clash when Simon Rösner beat World No.1 Ali Farag.
Mere words will do little justice in describing the opening top string match between Egypt's World No.4 Tarek Momen, the recently-crowned World Champion, and Welshman Joel Makin, the World No.12 and top-ranked Briton.
Pre-match, Momen led the head-to-head record between the two, 2-1 – but it was Makin who was the most recent victor, at the CIB Egyptian Squash Open in November.
The Welshman took the opening game and had two game-balls from 10-9 to open a two-game lead. But the Cairo conqueror drew level after converting his third game-ball, but then claimed just two points in the third game as Makin regained the lead.
It was short-lived however as Momen drew level for the second time before the pair demonstrated squash of the very highest quality in the decider, cheered on by a packed and appreciative crowd inside Squash on Fire.
But, remarkably, from a position of three points behind, underdog Makin slowly climbed closer and closer to the winning line until his jubilant Welsh team-mates erupted with joy when he sealed the match 11-9, 13-15, 11-2, 4-11, 11-9 after 76 minutes.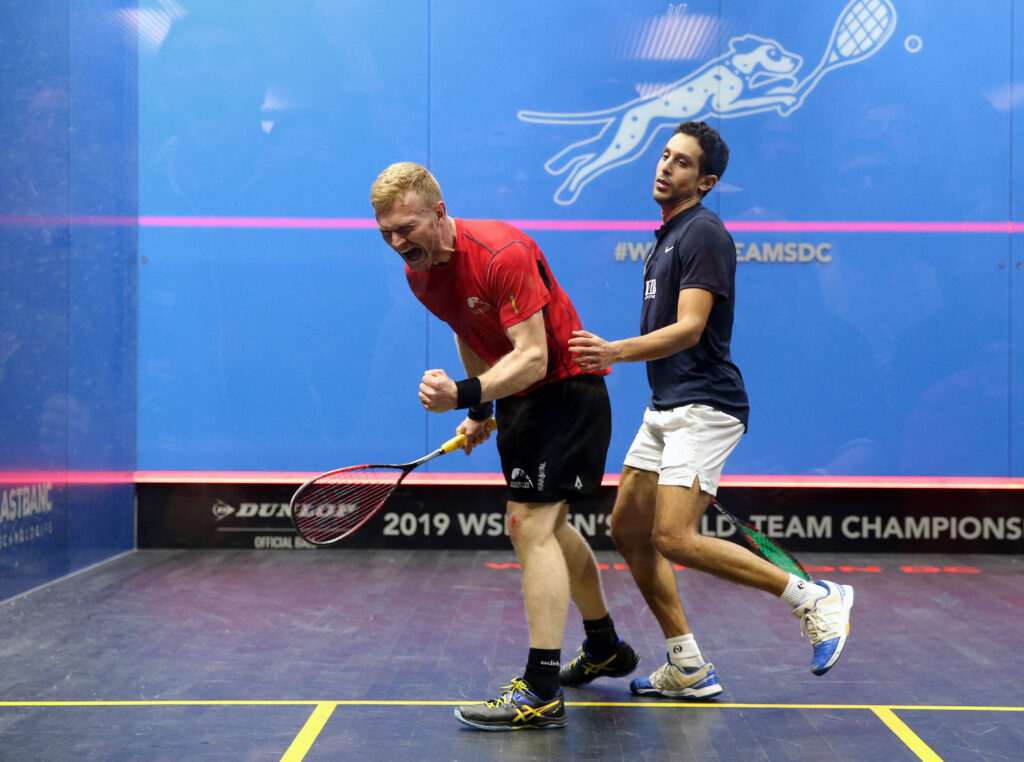 Makin said afterwards: "In the fifth I just had to get back to that solid base that I had at the start of the match. I let him go way too easily in that fourth game and he got a really quick lead. I needed to get back to basics and get the middle back off him and then take it in when I wanted to and not be so reactive."
Some semblance of normality followed when Egypt's World No.3 Karim Abdel Gawad took the next match, beating Peter Creed 12-10, 11-3, 11-7 before Mohamed Abouelghar, the World No.8 ranked more than 100 place above his opponent, defeated Emyr Evans 11-7, 11-7, 8-11, 11-7 in 51 minutes to put Egypt through to the final for the fifth time in a row.
"I'm feeling great," said the victorious Abouelghar. "It was an incredible first match from both Tarek and Joel, so I thought I have to get ready and I knew they were going to be on fire today with nothing to lose. I had a lot of pressure on my shoulders, but I'm very happy with how I dealt with it and very happy to get us through to the final.
"After the third game I thought I would have to get back to basics and not rush. He was going for everything and it was all paying off, I just had to be accurate and stay with him."
England and France have been battling each other for supremacy in the championships since 1985 and this year are marking their fifth semi-final clash in 16 years.
A packed crowd at Squash on Fire saw new top string Adrian Waller put second seeds England ahead after a tight 3-2 victory over Frenchman Gregoire Marche.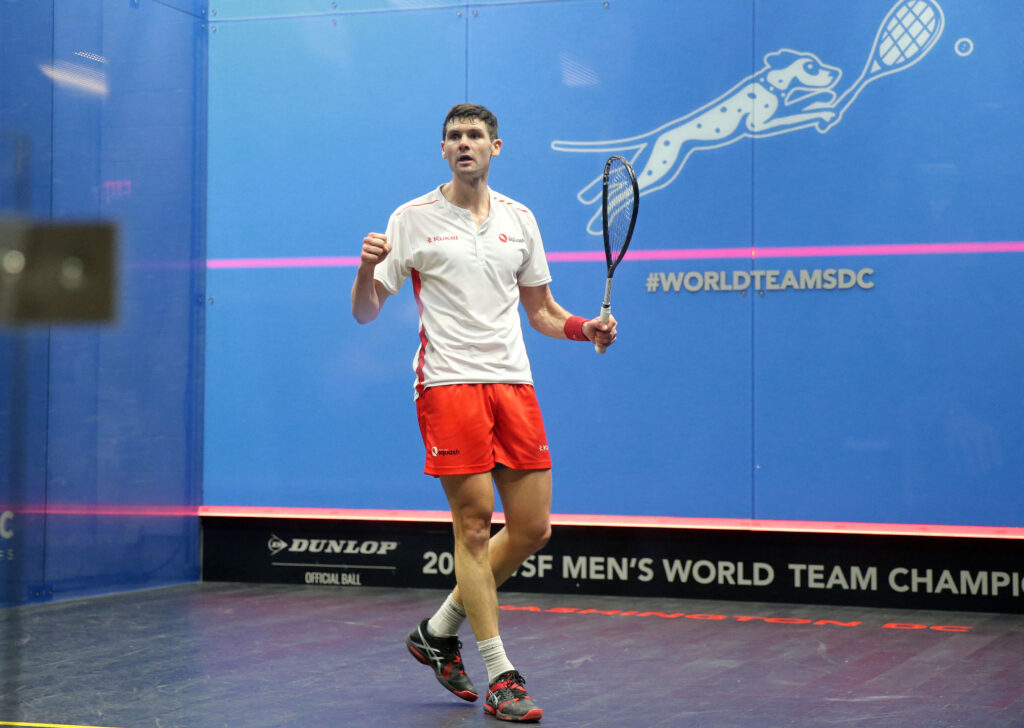 The next match saw event giants James Willstrop and Gregory Gaultier lock horns in what was their 44th international confrontation between the former World No.1s since first meeting in the British Junior U16 Open semi-finals 21 years ago.
Former World Champion Gaultier was making a return to the international stage after a 14-month injury lay-off – and had only had the benefit of two weeks on-court action before arriving in Washington.
To the sheer delight of his French team-mates, Gaultier ground out an 11-8, 11-5, 11-5 victory – his career 28th against the Englishman – to level the tie for France.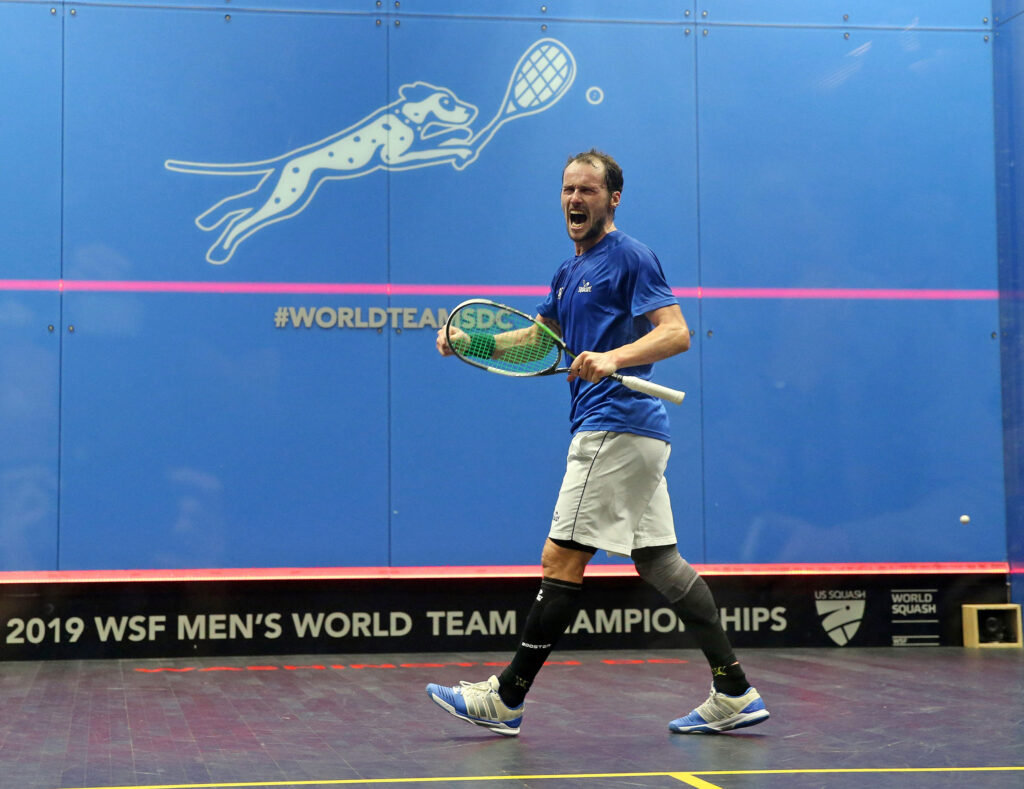 Then, in a remarkable turnaround, squad No.4 Declan James produced the goods for England, reversing the result of just a month ago to beat Mathieu Castagnet 11-6, 11-6, 11-7 to put England into the final for the fourth time in a row.
An ecstatic James said afterwards: "I'm lost for words, it's one of those moments that you maybe get a couple of times a season. My mindset was what helped me to win, before I went onto the court I didn't put pressure on myself – the team didn't put pressure on me, they just told me to go out there and put a performance in.
"Tomorrow is a new day and this tournament has shown you that it's never straightforward in a team event with three people playing. We're going to enjoy this tonight and we'll worry about tomorrow in the morning."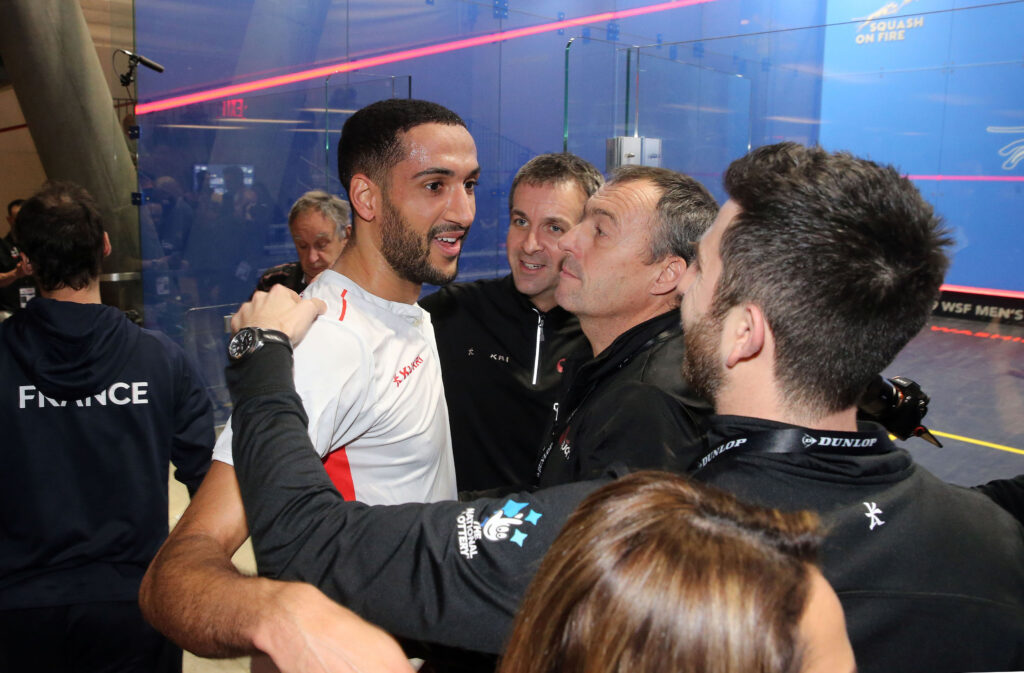 England coach David Campion added: "That was a world-class performance at any level.
"We showed faith in him. Daryl (Selby) is the captain and we had a chat this morning. It was a 50/50 thing between Daryl and Declan – and we decided to go with Declan. He's going to be around in two years time and we wanted to give him this experience, win or lose. It was a tough situation for him, a one-all situation, playing in the world teams and he produced an unbelievable level. By any standards, that was absolutely world class. It was testament to his character – we showed faith in him and he repaid that just now. We are absolutely delighted, for him and the team."
Earlier in the day, hosts and 12th seeds USA earned themselves the chance to fight for 13th place after beating Argentina 2-1 in the two nations first ever meeting in the championships.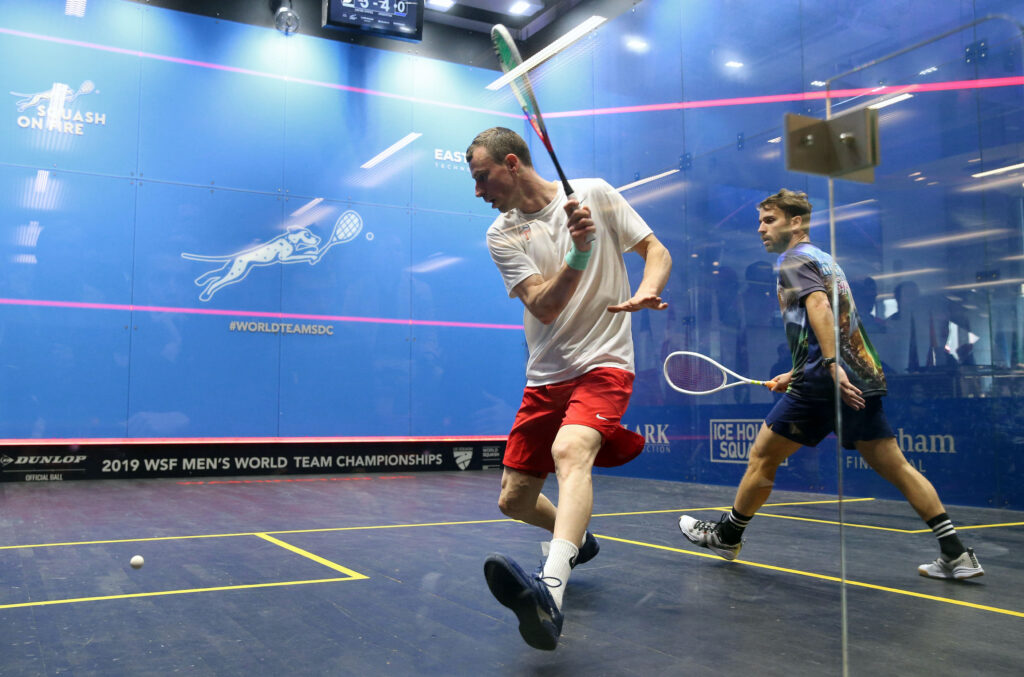 The team's third string Christopher Gordon, who clinched the tie after beating Gonzalo Miranda in the decider said: "I was really excited to play today. I'm feeling really fresh and I've been making sure that I'm prepared all week for these moments. I love playing for the US and being able to play a deciding match, I was really happy to get out there and play today."
15th seeds Switzerland grabbed the headlines earlier in the week after securing a place in the top 12 for the first time in the event's history following an upset win over higher-seeded USA. Today the team went down 3-0 to Hong Kong in the battle for 11th place, thus confirming an historic 12th place finish.
After losing a place in the top eight for the first time in their history in the event, record eight-time champions Australia today went down 2-0 to Malaysia in the play-off for ninth place – a far cry from the podium finish two years ago.
Long-time Australian number one Cameron Pilley, a three-time Commonwealth Games gold medallist competing in his sixth and last world team champion, was not unhappy with his team's outcome in the event.
"It's been tough – I haven't been playing as much high level squash as usual," said the 37-year-old former World No.11 who lost in five games to young Malaysian Eain Yow Ng. "We had our second child almost three weeks ago, I've been pretty busy at home with the family and I've just started a new coaching job in New York.
"It's been a good event though, it's been fun. It's exactly what you know it's going to be – a hard week of tough squash."
After claiming ninth place, Malaysian team coach Andrew Cross was upbeat about his team's future in the event: "Germany were a bit too good for us but we were pleased with our win yesterday, a local one over Hong Kong. We've got the Asian Championships in four months, in KL, so that was a good one to win, it gives us a bit more confidence going forward."
Action from the WSF Men's World Team Squash Championship continues tomorrow (December 21) at 11:00 local time (GMT-5) with all matches shown live on the official Facebook page of the Men's World Team Championship. For more information on the tournament, follow the event on Twitter, Facebook, Instagram, or visit www.worldteamsquashdc.com
Results:
Semi-finals:
[1] EGYPT bt [11] WALES 2-1
Joel Makin (WAL) bt Tarek Momen (EGY) 3-2: 11-9, 13-15, 11-2, 4-11, 11-9 (76m)
Karim Abdel Gawad (EGY) bt Peter Creed (WAL) 3-0: 12-10, 11-3, 11-7 (32m)
Mohamed Abouelghar (EGY) bt Emyr Evans (WAL) 3-1: 11-7, 11-7, 8-11, 11-7 (51m)
[2] ENGLAND bt [3] FRANCE 2-1
Adrian Waller (ENG) bt Gregoire Marche (FRA) 3-2: 11-9, 11-5, 8-11, 4-11, 11-6 (75m)
Gregory Gaultier (FRA) bt James Willstrop (ENG) 3-0: 11-8, 11-5, 11-5 (43m)
Declan James (ENG) bt Mathieu Castagnet (FRA) 3-0: 11-6, 11-6, 11-7 (48m)
5th – 8th place play-offs:
[5] GERMANY bt [9] SCOTLAND 2-0
Simon Rösner (GER) bt Greg Lobban (SCO) 3-0: 11-6, 11-9, 11-5 (40m)
Raphael Kandra (GER) bt Alan Clyne (SCO) 3-1: 8-11, 11-8, 11-4, 11-9 (49m)
[4] NEW ZEALAND bt [8] SPAIN 2-0
Paul Coll (NZL) bt Borja Golan (ESP) 3-1: 9-11, 11-9, 11-3, 11-6 (60m)
Campbell Grayson (NZL) bt Iker Pajares Bernabeu (ESP) 3-1: 11-5, 11-6, 5-11, 11-9 (55m)
9th place play-off:
[10] MALAYSIA bt [7] AUSTRALIA 2-0
Eain Yow Ng (MAS) bt Cameron Pilley (AUS): 3-2: 12-14, 11-6, 11-6, 9-11, 11-4 (49m)
Ivan Yuen (MAS) bt Rex Hedrick (AUS) 3-0: 13-11, 11-4, 11-8 (53m)
11th place play-off:
[6] HONG KONG CHINA bt [15] SWITZERLAND 3-10
Leo Au (MAS) bt Dimitri Steinmann (SUI) 3-0: 11-4, 11-9, 11-8 (37m)
Max Lee (MAS) bt Reiko Peter (SUI) 3-2: 7-11, 11-5, 5-11, 11-5, 11-9 (47m)
Tsz Fung Yip (MAS) bt Cédric Kuchen (SUI) 2-0: 11-8, 11-6 (15m)
13th – 16th place play-offs:
[12] USA bt [16] ARGENTINA 2-1
Todd Harrity (USA) bt Robertino Pezzota (ARG) 3-1: 11-5, 8-11, 11-6, 11-7 (48m)
Leandro Romiglio (ARG) bt Andrew Douglas (USA) 3-1: 11-6, 7-11, 14-12, 11-4 (63m)
Christopher Gordon (USA) bt Gonzalo Miranda (ARG) 3-0: 11-9, 11-4, 11-3 (33m)
[14] CANADA bt [21] KUWAIT 2-1
Shawn Delierre (CAN) bt Ammar Altamimi (KUW) 3-1: 5-11, 11-7, 12-10, 11-9 (50m)
Abdullah Al Muzayen (KUW) bt Michael McCue (CAN) 3-0: 11-5, 11-8, 11-8 (34m)
David Baillargeon (CAN) bt Ali Alramezi (KUW) 3-0: 11-5, 11-4, 11-2 (27m)
17th – 20th place play-offs:
[17] JAMAICA bt [13] COLOMBIA 2-1
Christopher Binnie (JAM) bt Juan Camilo Vargas (COL) 3-0: 11-7, 11-9, 11-6 (34m)
Lewis Walters (JAM) bt Ronald Palomino (COL) 3-1: 7-11, 11-9, 12-10, 11-5 (49m)
Erick Herrera (COL) bt Bruce Burrowes (JAM) 2-0: 11-2, 11-6 (11m)
[18] IRELAND bt [19] SOUTH AFRICA 2-0
Sean Conroy (IRL) bt Jean-Pierre Brits (RSA) 3-2: 11-7, 14-12, 9-11, 3-11, 11-4 (54m)
Arthur Gaski (IRL) bt Christo Potgieter (RSA) 3-0: 13-11, 11-8, 11-0 (30m)
21st – 23rd place play-offs:
[23] NIGERIA bt [20] SINGAPORE 2-1
Babatunde Ajagbe (NGR) bt Samuel Kang (SGP) 3-1: 11-9, 12-10, 0-11, 11-5 (37m)
Sodiq Taiwo (NGR) bt Chua Man Tong (SGP) 3-0: 11-6, 12-10, 11-3 (28m)
Brandon Tan (SGP) bt Ehimen Ehalen (NGR) 3-0: 11-4, 11-9, 11-6 (22m)
Final:
[1] EGYPT v [2] ENGLAND
3rd place:
[3] FRANCE & [11] WALES
5th place play-off:
[5] GERMANY v [4] NEW ZEALAND
7th place play-off:
[9] SCOTLAND v [8] SPAIN
13th place play-off:
[12] USA v [14] CANADA
15th place play-off:
[16] ARGENTINA v [21] KUWAIT
17th place play-off:
[17] JAMAICA v [18] IRELAND
19th place play-off:
[13] COLOMBIA v [19] SOUTH AFRICA