The WSF Men's World Team Squash Championship is heating up with the quarter finals getting underway at Squash on Fire in Washington DC today.
Up first on the all-glass showcourt is defending champions and no.1 seeds Egypt against no.5 seeds Germany.
Egypt have not lost a match so far in the tournament, qualifying for the quarter finals with victories over USA and Switzerland to top Pool A to see them secure a bye into the quarter final. Meanwhile, Germany finished second in Pool E behind Spain and defeated Malaysia yesterday to qualify for the last eight.
All of the action will be available to watch for free for all countries on the Men's World Team Championships Facebook page.
Gawad Scrapes Through Battle with Kandra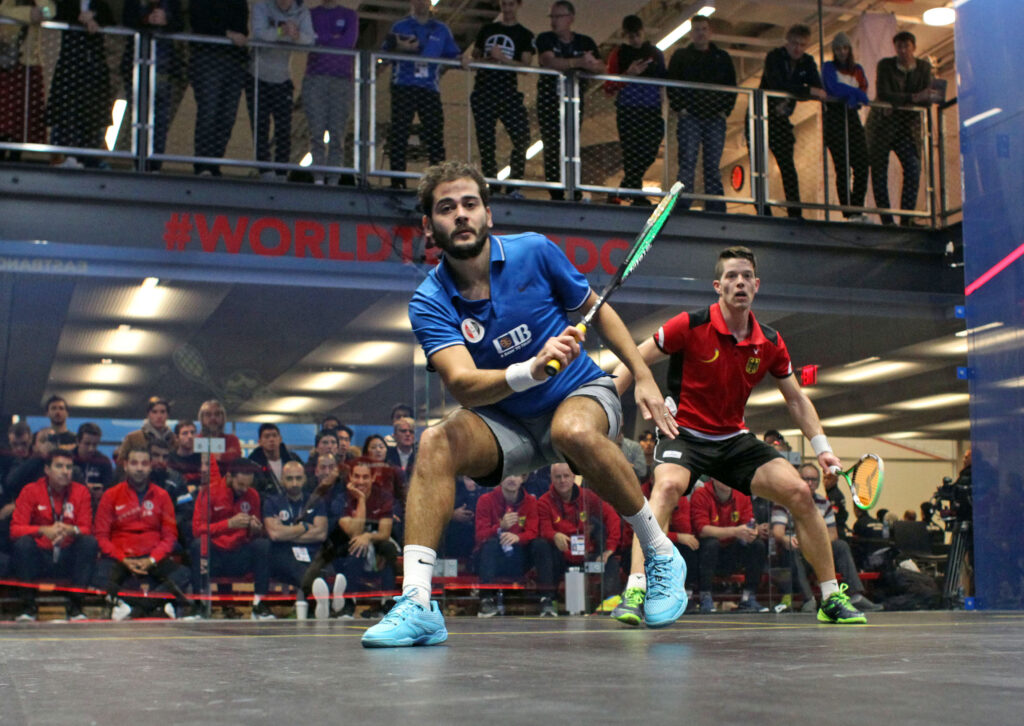 Former World No.1 Karim Abdel Gawad was pushed all the way to five games by German No.2 Raphael Kandra as Egypt strengthened their position in the tie.
The defending champions have not lost a match so far in the tournament as they look to retain the trophy which they won in Marseille in 2017 and Gawad put the holders in a strong position as he went two games up against Kandra.
The German made a battle of it in the third, however, as he made the match scrappy and took attacking opportunities away from the racket of Gawad to draw back level and push to a deciding fifth.
Former World Champion Gawad's class began to shine through in the fifth though as he eased to an 11-4 win to close out a 3-2 victory.
Result:
Karim Abdel Gawad (EGY) bt Raphael Kandra (GER) 3-2: 11-8, 11-5, 9-11, 8-11, 11-4 (58m)
Germany's Rosner Shocks World No.1 Farag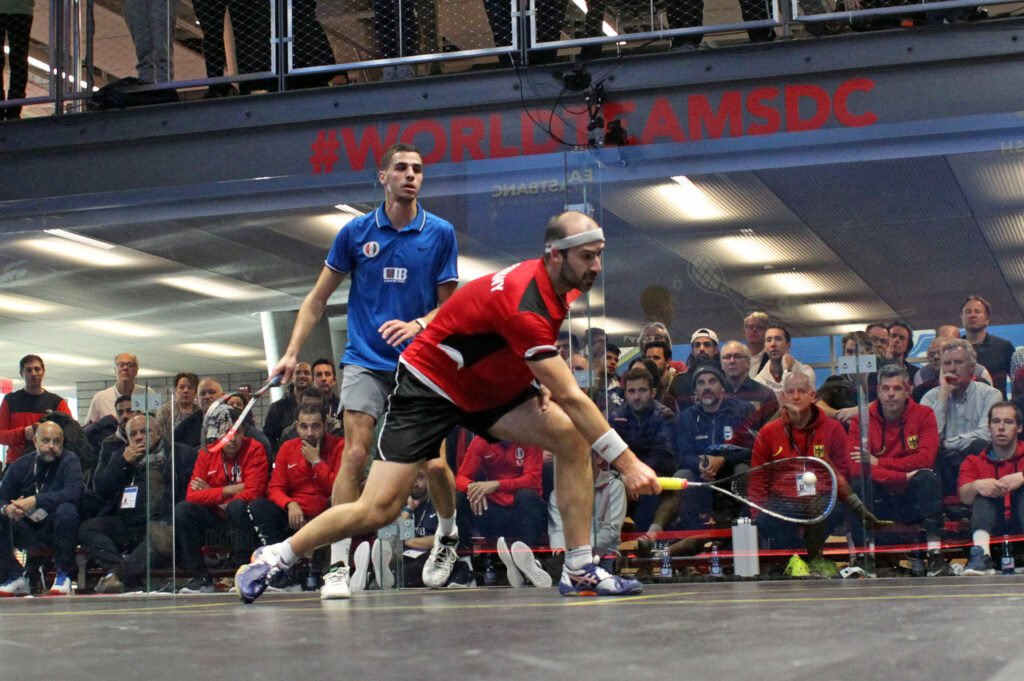 World No.6 Simon Rosner caused a huge shock in the tie between defending champions Egypt and Germany as he took out World No.1 Ali Farag to put Germany on level terms in the tie.
The European side were 1-0 down after Gawad prevailed in a five-game encounter against Raphael Kandra, however, Rosner made his match count as he survived a comeback from former World Champion Farag to win in 73 minutes.
Rosner started the match well to take advantage of a Farag, who wasn't at his usual best, as the German took control and was lethal with his backhand drop to take a two-game lead.
However, the fighting spirit of Farag came out in the third as the World No.1 dug in deep to fight his way back into the match and level the scores. Farag went onto save five match balls in the fifth but it wasn't enough to stop Rosner from taking it and drawing level for Germany overall in the tie.
Result:
Simon Rösner (GER) bt Ali Farag (EGY) 3-2: 11-6, 11-8, 9-11, 5-11, 11-8 (73m)
Abouelghar Eases Past Rapp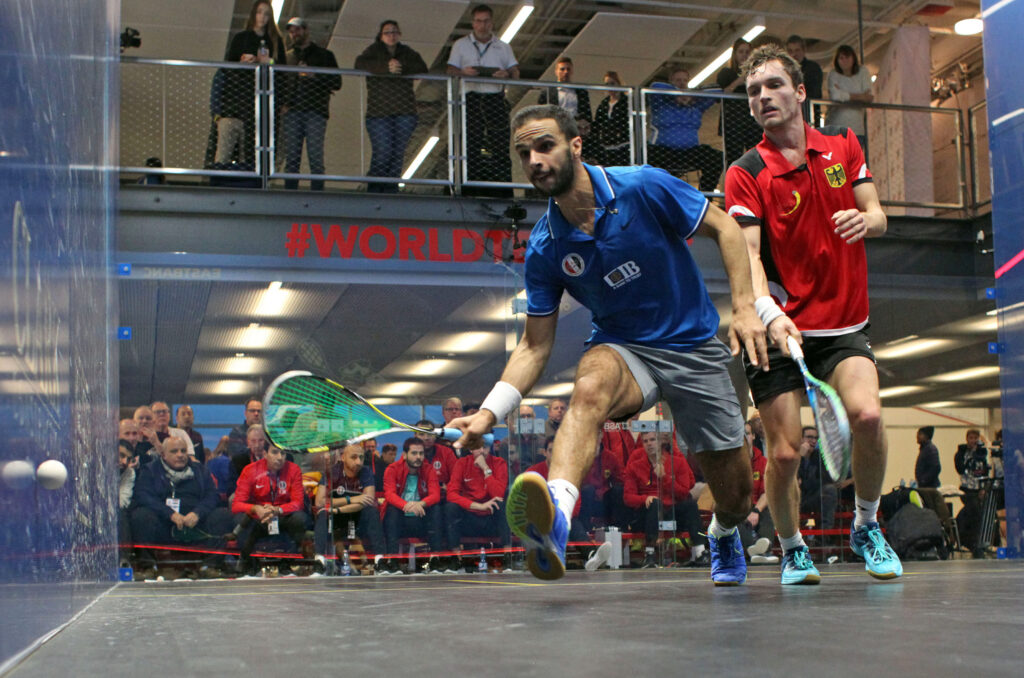 Egypt's World No.8 Mohamed Abouelghar eased past Germany's World No.144 Valentin Rapp in straight games in the decider between the two countries.
Egypt took the lead through Karim Abdel Gawad, before Simon Rosner beat Ali Farag to draw level for Germany. However, it was all about Egypt in the final match of the tie as Abouelghar powered past Rapp by an 11-3, 11-7, 11-7 scoreline.
Defending champions Egypt will now take on the winner between Scotland v Wales in the semi-finals of the WSF Men's World Team Squash Championship.
"Before the match started I was talking to Ali," said Abouelghar. "We made sure that none of us relaxed, no matter what happened and I think that helped a lot. Before Ali's match I knew that if he won that mine would be a dead rubber, but I didn't go with that mentality and I warmed up and was ready for the match and I'm very happy to help the team get the win.
"On the squash court there are no favourites, on paper we're the strongest but in a team event when things get tight the nerves are very high and I'm very happy to have held my nerves today.
"It's a tough match with Wales and Scotland both of their No.1s are really strong, we will just watch and see what happens."
Result:
Mohamed Abouelghar (EGY) bt Valentin Rapp (GER) 3-0: 11-3, 11-7, 11-7 (27m)