Miranda Puts Argentina In Front
Argentina's Gonzalo Miranda has given his country the early advantage against Nigeria, as he got the better of Adewale Amao in four games.
The Argentinian, who does not have an official PSA World Ranking, actually fell behind in his clash with Amao, with the Nigerian taking the first 11-8.
However, Miranda was able to turn the match around, winning the next three games to take the victory in 50 minutes, pushing Argentina into a 1-0 lead.
Pezzota Secures Argentinian Victory
Robertino Pezzota battled back from two games down to defeat Nigeria's Babatunde Ajagbe, giving Argentina the victory in the tie.
The Nigerian took the opening two games to hold the big lead, but Pezzota fought back, winning the next three rather comfortably, giving Argentina an unassailable 2-0 lead in the tie.
The match between Leandro Romiglio and Sodiq Oluwatobi Taiwo was not played as the tie had already been won by Argentina.
Results
Gonzalo Miranda (ARG) bt Adewale Amao (NGR) 3-1: 8-11, 11-7, 11-7, 12-10 (50m)
Robertino Pezzota (ARG) bt Babatunde Ajagbe (NGR) 3-2: 6-11, 5-11, 11-7, 11-7, 11-6 (44m)
Leandro Romiglio (ARG) v Sodiq Oluwatobi Taiwo (NGR) – Match Withdrawn
Wheadon Gives South Africa Early Lead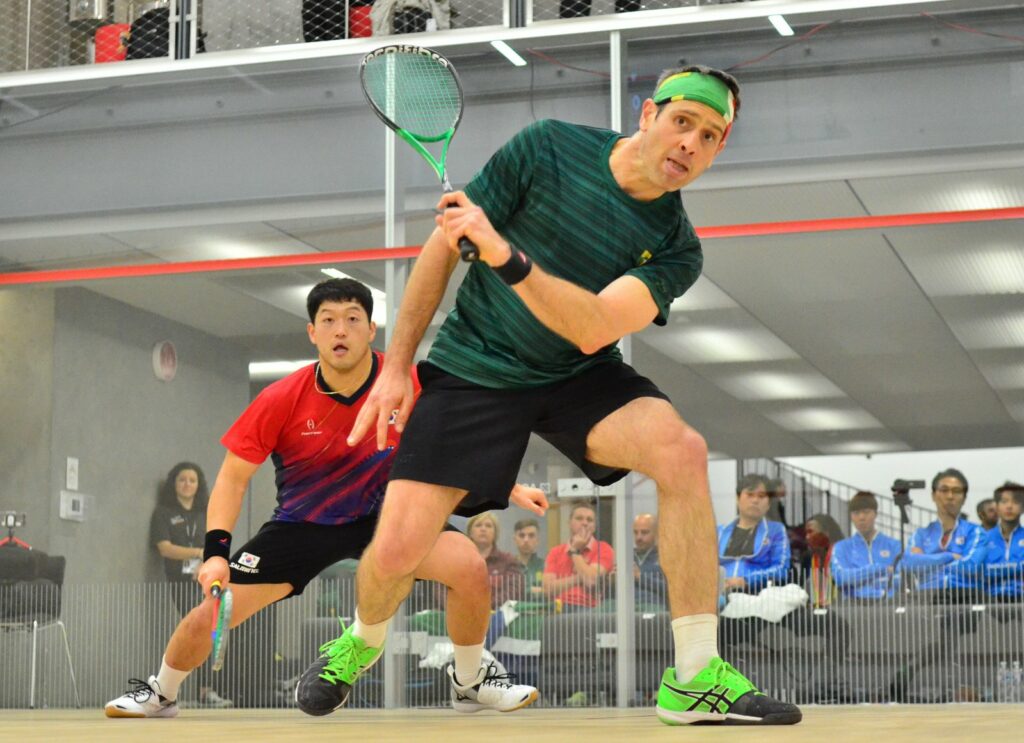 Gary Wheadon has given South Africa the early advantage over the Republic of Korea after he got the better of Joong-Won Hwang in straight games.
It was a tough battle between the pair, with the South African taking both the first and third games on a tie-break, winning the pair 12-10.
He also won the second game 11-8 in a straight games victory over his Korean opponent, giving his country the early lead in their consolation bracket tie.
Brits Downs Ko In Five For South Africa Victory
South African Jean-Pierre Brits had to fight to overcome Korean Se Hyun Lee, giving his country the victory in their consolation tie.
Brits took the first game, but saw his Korean opponent fight back to take both the second and third games by an 11-8 scoreline.
Ko then had match balls in the fourth game, but Brits saved what he needed to, coming through it 14-12, before carrying that momentum into the deciding game, where he would win to give South Africa a 2-0 lead in the tie.
The match between Christo Potgieter and Se Hyun Lee was not played as the tie had already been won by South Africa.
Results
Gary Wheadon (RSA) bt Joong-Won Hwang (KOR) 3-0: 12-10, 11-8, 12-10 (43m)
Jean-Pierre Brits (RSA) bt Youngjo Ko (KOR) 3-2: 11-4, 8-11, 8-11, 14-12, 11-6 (62m)
Christo Potgieter (RSA) v Se Hyun Lee (KOR) – Match Withdrawn
Tan Gives Singapore Advantage Over Jamaica
Singaporean Brandon Tan gave them the perfect start over Jamaica, as he got the better of Tahjia Lumley in straight games at Squash on Fire.
Tan did not seem to break a sweat during the match, as he fired Singapore into the lead in their consolation tie, winning 11-8, 11-6, 11-8 in 34 minutes.
Binnie Levels Tie For Jamaica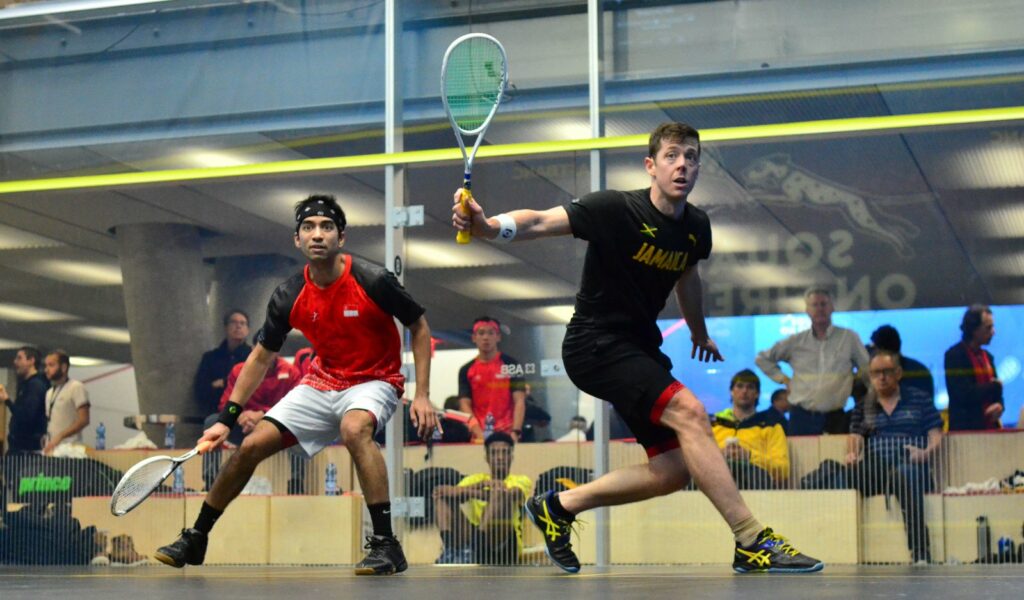 Jamaica brought themselves level in the tie, with Christopher Binnie downing Singapore's Samuel Kang in straight games to make it 1-1.
All three games were tight, but Binnie was able to take them all, winning 11-9, 11-8, 12-10 in 41 minutes to push the tie into a deciding match.
Walters Claims Tie For Jamaica
Lewis Walters helped complete the turnaround for Jamaica, who defeated Singapore after he beat Chua Man Tong in straight games.
With Tan and Binnie both taking a victory for their respective countries, it came down to this clash between Walters and Tong, with the Jamaican winning out.
He took the momentum after winning the first two games on tie-breaks, taking them both 12-10, before easing to the third and final game 11-3, claiming the victory for Jamaica, who now face the United States tomorrow.
Results
Brandon Tan (SGP) bt Tahjia Lumley (JAM) 3-0: 11-8, 11-6, 11-8 (34m)
Christopher Binnie (JAM) bt Samuel Kang (SGP) 3-0: 11-9, 11-8, 12-10 (41m)
Lewis Walters (JAM) bt Chua Man Tong (SGP) 3-0: 12-10, 12-10, 11-3 (30m)