Action gets under way today at the WSF Men's World Team Championship held in Washington D.C. in the United States of America starting with defending champions Egypt against home favourites USA.
There will be action taking place across all four courts at Squash on Fire and you will be able to make sure you don't miss any of the action by watching for free on the Men's World Team Championships Facebook page.
In this first tie of the tournament on the glass court World Champion Tarek Momen faces Chris Hanson, World No.1 Ali Farag is against Todd Harrity and former World No.1 Karim Abdel Gawad takes on Andrew Douglas.
Momen Defeats Hanson to Get Egypt off to Winning Start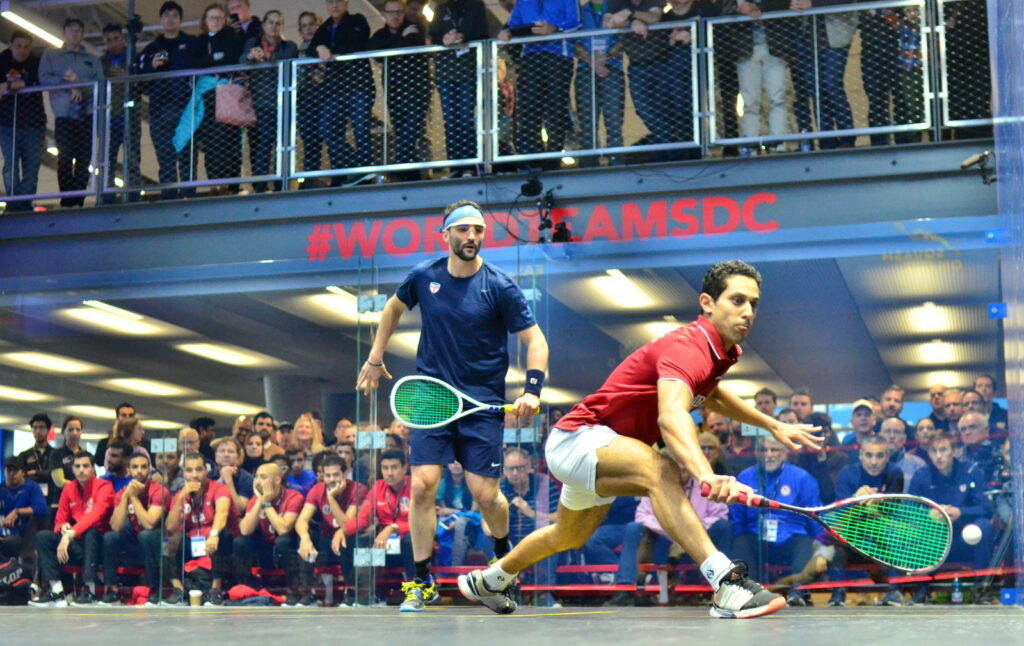 Egypt's reigning World Champion Tarek Momen got his country off to a winning start as he overcame USA's Chris Hanson in the first match on the show court of the WSF Men's World Team Squash Championship held at Squash on Fire in Washington DC.
Fresh off his major win in Qatar where he got his hands on the coveted World Championship trophy for the first time, Momen got off to a rapid start to take the first game by an 11-2 scoreline.
Hanson came back well in the second to make things more difficult for Momen with his attacking squash but the World No.4 did not let that affect his game plan as he took a two-game lead before completing an 11-2, 11-9, 11-8 win in 27 minutes.
Result:
Tarek Momen (EGY) bt Chris Hanson (USA) 3-0: 11-2, 11-9, 11-8 (27m)
Farag Secures Egypt Win with Victory Over Harrity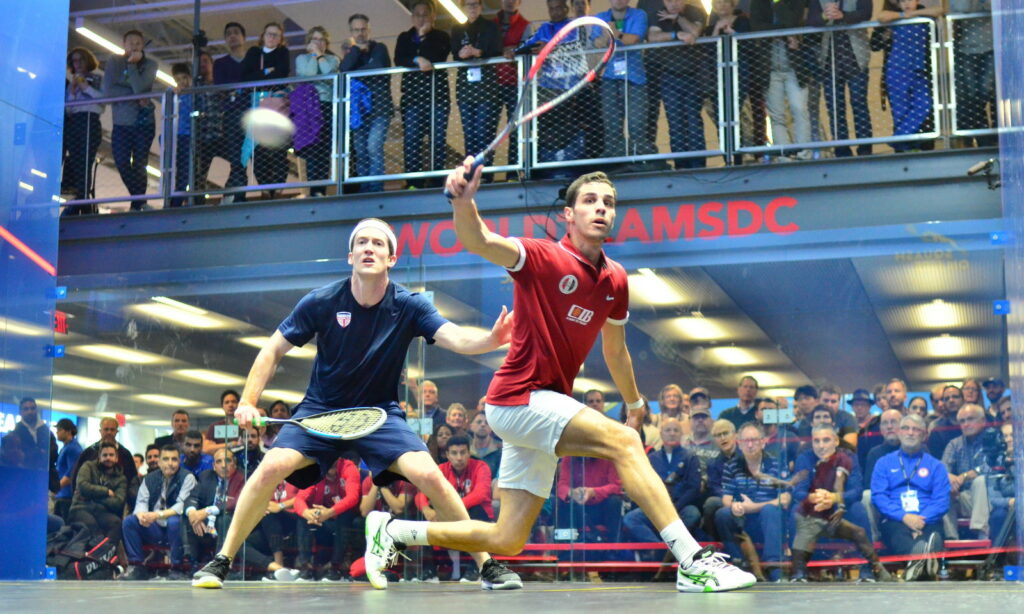 Egypt's World No.1 Ali Farag helped the defending champions claim their first victory of the tournament after defeating USA's Todd Harrity in four games.
Farag was looking to cement Team Egypt's winning start after compatriot and World No.4 Momen had won the first match of the tie and World No.1 Farag ensured he continued that winning momentum as he overcame Harrity in 47 minutes.
The Cairo-based Egyptian claimed a two-game advantage, before Harrity battled back bravely to save two match balls and take the third game much to the delight of the busy crowd inside the Squash on Fire venue.
However, Harrity was unable to keep that momentum on his side as he succumbed to the attacking skill of Farag in the fourth as the Egyptian closed out an 11-6, 11-7, 10-12, 11-4 win.
"I'm really pleased with our start," said Farag following his win. "We had a strong team in front of us in the USA, Todd Harrity has been playing well so it was good to get that win myself and also for Tarek to give us that head start.
"It's good to get the first win under our belt.
"Having the likes of Karim, Abou and Tarek next to me gives me a lot of confidence and a lot of things to look up to. We lift each other up and hopefully we can bring home the title."
Result:
Ali Farag (EGY) bt Todd Harrity (USA) 3-1: 11-6, 11-7, 10-12, 11-4 (37m)
Gawad Completes Egyptian Win on Day One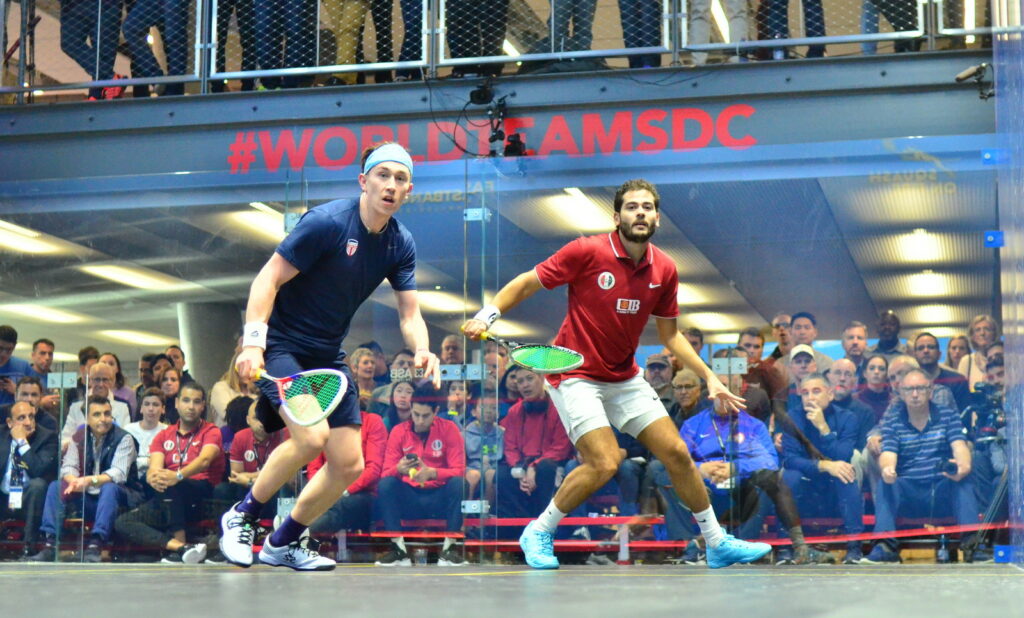 Egypt's former World No.1 Karim Abdel Gawad rounded off a successful first day for the defending champions as he came from a game down against USA's Andrew Douglas to record a clean sweep of victories for Egypt.
Douglas made the most of a slow start from World No.3 Gawad to take the first game, before the Egyptian, who has enjoyed a strong first half of the PSA World Tour season, came back strongly to record an 8-11, 11-9, 11-8, 11-6 win in 41 minutes.
The victory leaves Egypt in a strong position at the top of Pool A
Result:
Karim Abdel Gawad (EGY) bt Andrew Douglas (USA) 3-1: 8-11, 11-9, 11-8, 11-6 (41m)
Amir Wagih, Egypt national coach, said afterwards: "It was a great match and you could see that their players played with no pressure, and they really enjoyed it.  And when you're playing the world No.1 you have to give 200% of your energy!"
US National Coach, Paul Assaiante added: "We played three people who have all been world champions. 
"We had a couple of guys coming off some injuries and we were hoping they could play their way through – and in all cases I think they felt better about themselves coming off the court.  All three guys came off the court with their eyes a little bigger! They did a really nice job – I'm very proud of them 
"It was a super crowd, very appreciative of the squash from both sides. And now we have Switzerland on Tuesday.  Today they played with no pressure – and on Tuesday it'll be all pressure, against a team, in the United States, that on paper we should have a chance against! Today was fun; on Tuesday it will be less fun."