Action gets under way today at the WSF Men's World Team Championship held in Washington D.C. in the United States of America. There will be action taking place across all four courts at Squash on Fire and you will be able to make sure you don't miss any of the action.
All of the action will be available to watch for free for all countries on the Men's World Team Championships Facebook page.
Court one will see defending champions Egypt take on home favourites USA in the first tie of the day with World Champion Tarek Momen taking on USA's Chris Hanson.
They will be followed by France v Colombia as Gregory Gaultier could make his return to action following a 14-month absence with a knee injury if he is named in France's line-up today.
The final tie of the day on court one will see England v Canada, which starts at 18:30 local time (GMT-5).
On the other courts there will be ties between the likes of New Zealand v Ireland, Australia v Kuwait and Germany v Argentina.
Matches start at 12:00 local time (EST) and you can find the schedule for each court below.
Court 1: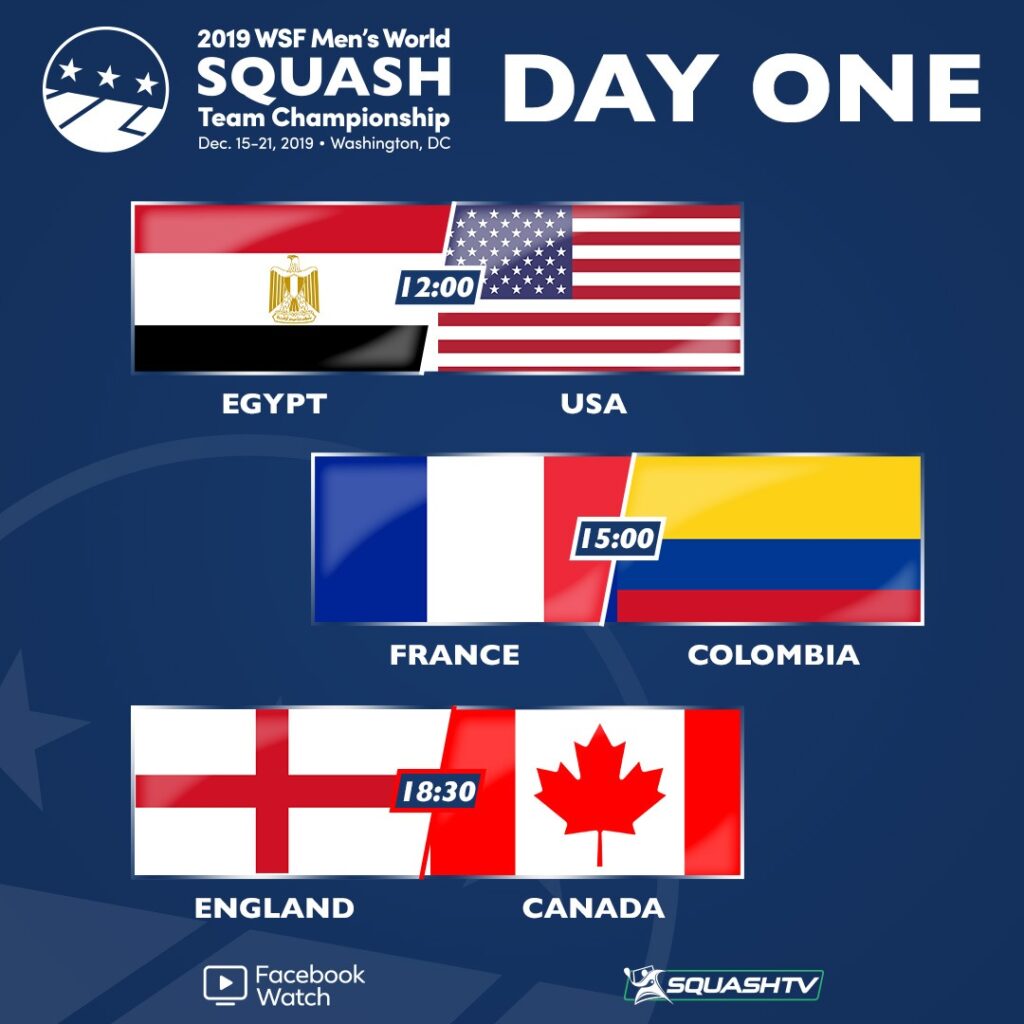 12:00 Egypt v USA
12:00 Tarek Momen v Chris Hanson
Follow: Ali Farag v Todd Harrity
Follow: Karim Abdel Gawad v Andrew Douglas
15:00 France v Colombia
18:30 England v Canada
Court 8:
12:00 New Zealand v Ireland
12:00 Campbell Grayson (NZL) v Oisin Logan (IRL)
Follow: Paul Coll (NZL) v Arthur Gaskin (IRL)
Follow: Evan Williams (NZL) v Steve Richardson (IRL)
15:00 Spain v South Africa
18:30 Hong Kong China v Jamaica
Court 7:
12:00 Scotland v Singapore
12:00 Alan Clyne (SCO) v Chua Man Chin (SGP)
Follow: Greg Lobban (SCO) v Samuel Kang (SGP)
Follow: Rory Stewart (SCO) v Brandon Tan (SGP)
15:00 Germany v Argentina
18:30 Wales v Nigeria
Court 6:
15:00 Malaysia v Korea
18:30 Australia v Kuwait