The first match on the glass court on the final day of action at the WSF Men's World Team Squash Championship will see host nation USA battle it out with neighbours Canada to see who will take 13th place.
All of the action will be available to watch for free for all countries on the Men's World Team Championships Facebook page.
USA Defeat Canada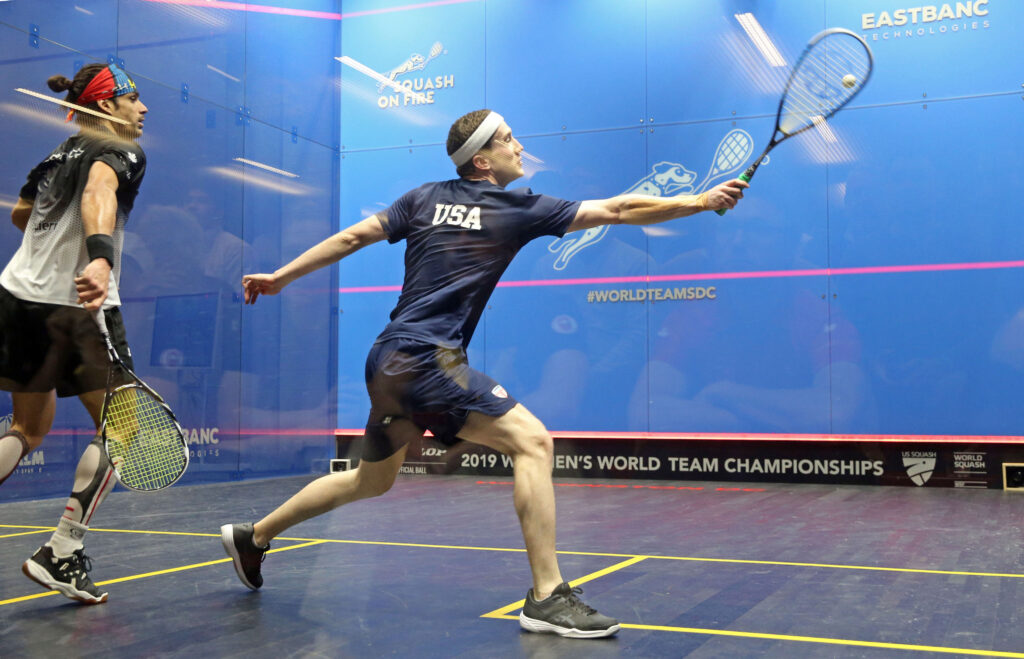 United States won the battle with Canada at Squash on Fire to secure a 13th place finish at the WSF Men's World Team Squash Championship being held in Washington DC.
Host nation USA were determined to finish their tournament on a high but faced a tough prospect in the form of close neighbours Canada on the last day of action in the capital.
World No.88 Christopher Gordon came from a game down to set USA on their way to victory as he claimed a 7-11, 11-4, 12-10, 11-1 win over Canada's World No.106 David Baillargeon.
US No.1 Todd Harrity – who played his best squash of the tournament on the last day – then completed the win with a comprehensive straight-games victory over Canadian No.1 Shawn DeLierre to complete a good day for the home favourites.
"It's great to end well," said Harrity.
"I've known Shawn for a long time and we've had a lot of battles and it's always a good, fun and intense battle. I think as a team we got momentum throughout the week and I'm happy to have come out on top today.
"It's such a pleasure to be a part of this team and we get on really well and have really good chemistry and team dynamic. It's been great getting up and getting on court while having your team behind you. It wasn't necessarily the finish that we wanted but I'm proud to have been a part of this team and we ended strong."
Results:
Christopher Gordon (USA) bt David Baillargeon (CAN) 3-1: 7-11, 11-4, 12-10, 11-1 (40m)
Todd Harrity (USA) bt Shawn DeLierre (CAN) 3-0: 11-5, 15-13, 11-8 (39m)