Lobban Secures Scottish Qualification
Scottish No.1 Greg Lobban seal qualification through to the knockout stages for his country after he defeated Sean Conroy in their first match with Ireland.
Lobban knew that a win would mathematically put the Scottish team into the knockout stages, even if they were to lose to Ireland on the final day of pool play.
He came through for his country, putting in a fine performance to seal victory in just over half an hour, winning 11-7, 11-5, 11-6.
"We feel really good. We were on a high after yesterday after outstanding performances from Rory [Stewart] and [Alan] 'Clyney'. I was keen to get on there today to do my part, to win 3-0 and set the tone for the rest of the match,"
"We came into today wanting to set down a stall, win 3-9 against Ireland and keep our confidence high. If we do win the pool, then we get a bye in the last 16 and we get a slightly more favourable draw. We finished 8th two years ago, and that was our aim for this time round, but we are looking much further as well.
Stewart Seals Top Spot For Scotland In Pool D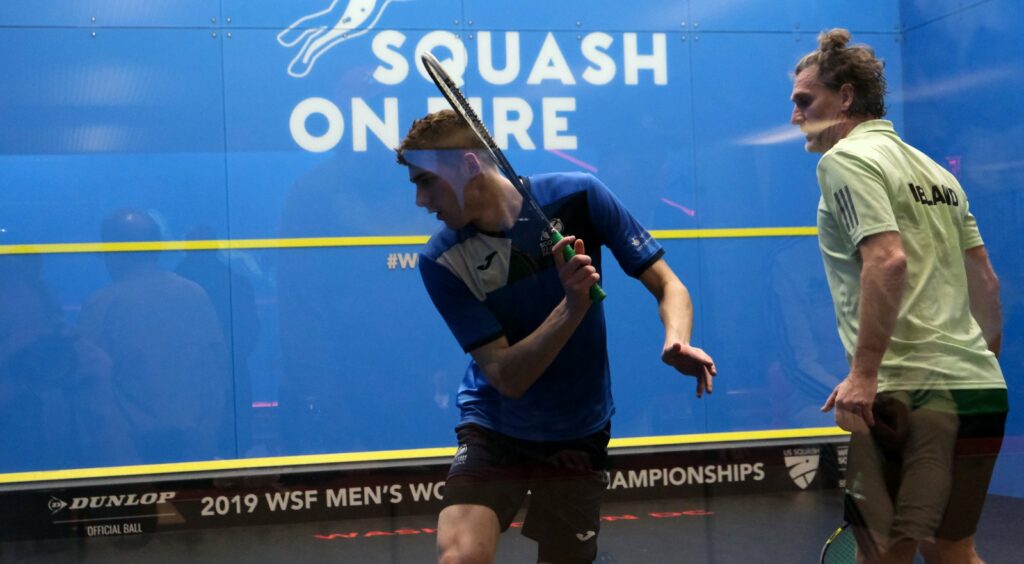 Rory Stewart took victory over Ireland's Steve Richardson to seal top spot in Pool D for Scotland, and a bye through to the quarter finals.
The Scots had already secured their passage through to the knockout stage with Lobban's win, but Stewart's victory over Richardson in four games seals top spot.
Stewart took the first two games rather comfortably, only for the 47-year-old investment banker to come fighting back in the third game. However, it would be Scotland that took the win to take an unassailable two-game lead.
Clyne Seals Whitewash Win For Scotland
In the final match of the all-Celtic tie between Scotland and Ireland, Alan Clyne secured a clean sweep for the Scots, beating Oisin Logan.
He restricted the Irishman to just 13 points across the entire match, winning out 11-5, 11-5, 11-3 in a 36 minute battle, with Scotland finishing top of the pool.
Results
Greg Lobban (SCO) bt Sean Conroy (IRL) 3-0: 11-7, 11-5, 11-6 (31m)
Rory Stewart (SCO) bt Steve Richardson (IRL) 3-1: 11-8, 11-4, 8-11, 11-2 (41m)
Alan Clyne (SCO) bt Oisin Logan (IRL) 3-0: 11-5, 11-5, 11-3 (36m)
Ng Gives Malaysia Perfect Start In Crucial Clash
Malaysia's Eain Yow Ng has put his nation ahead in their crucial tie with Colombia, after he defeated Miguel Rodriguez at Squash on Fire.
All four games were tough, with no more than three points between the pair at the end. The first saw Ng take the early lead with an 11-9 victory, and he then took the second on a tie-break 13-11.
It looked like the Malaysia would wrap it up in the third game, but Rodriguez saved four match balls, winning it 15-13 to push the match into a fourth. However, Malaysia would take the win 3-1, to move ahead in this crucial tie.
"I feel great. That was for the team, mostly. I was really focussed and willing to fight for the team. It was really tough towards the end, and maybe if it was not a team match, I would have given in at the end, but I had the team behind me," the Malaysian admitted.
"I really have no idea what I was thinking after the third game. My mind was just blank at one stage but I just believed in myself, and especially because those four points went away so quickly, I did not have change to focus on what happened."
Kamal Secures Malaysian Qualificiation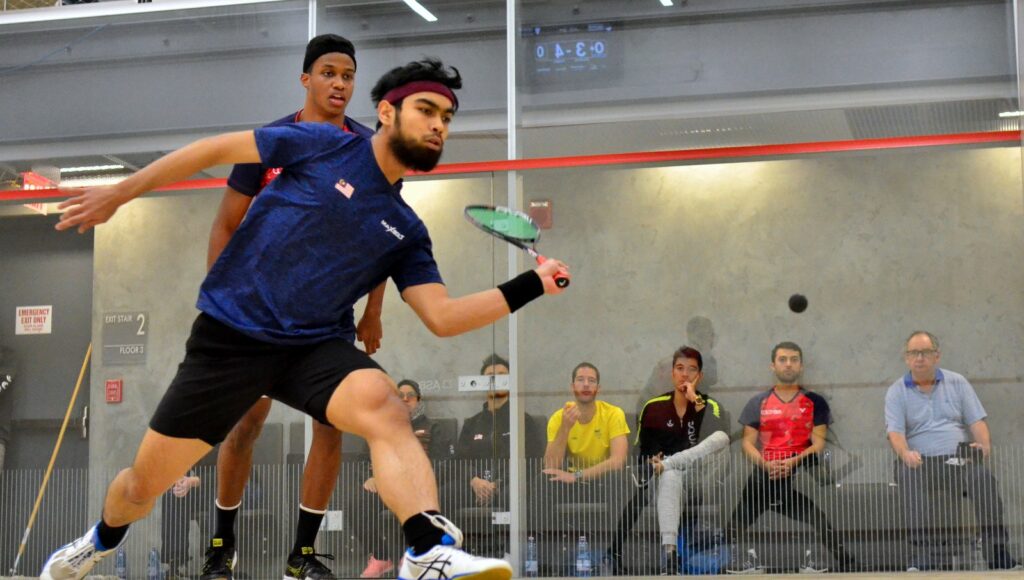 Malaysia's Mohammed Syafiq Kamal secured qualification through to the knockout stages for his country after beating Colombia's Ronald Palomino.
Kamal took the first game 11-6, but Palomino, who was coming off the back of a monster victory in day two, fought back to take the second.
It would be the Malaysian that eventually took the victory, though, winning out in four games, to seal Malaysia's place in the knockout stages on Wednesday.
Vargas Downs Yuen In Last Match
Juan Camilo Vargas put Colombia on the board by winning the final match of his country's clash with Malaysia, downing Ivan Yuen.
It was the Malaysian who took the lead twice in the match, as he won both the first and third games, but Vargas fought back to send the match into a fifth and deciding game.
The fifth was going Yuen's way, but the Colombian saved four match balls before going on to win it on a tie-break 12-10, securing the victory, but Malaysia win overall 2-1.
Results
Eain Yow Ng (MAS) bt Miguel Rodriguez (COL) 3-1: 11-9, 13-11, 13-15, 11-8 (61m)
Mohammed Syafiq Kamal (MAS) bt Ronald Palomino (COL) 3-1: 11-6, 13-15, 11-8, 11-9 (55m)
Juan Camilo Vargas (COL) bt Ivan Yuen (MAS) 3-2: 11-9, 7-11, 11-8, 4-11, 12-10 (57m)
Marche Gives France Early Lead Over Korea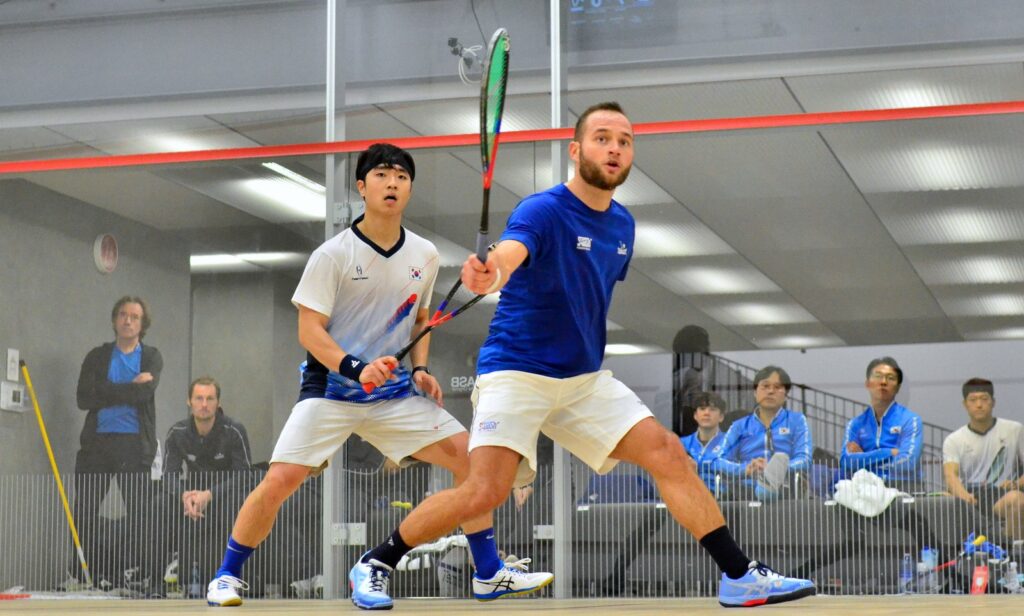 Gregoire Marche set France up with a perfect start to their tie against the Republic of Korea, as he overcame Youngjo Ko in just 27 minutes.
The Frenchman had to battle to win the first game, taking it on a tie-break 12-10, before then showing his dominance in the second, allowing Ko just a single point.
Marche then won the third to give France the victory, and the 1-0 lead in their Pool C tie with Korea, with the European country knowing that they will top the group no matter what happens today.
Masotti Beats Hwang To Secure Third French Victory
France sealed a third consecutive victory in the pool stages of the 2019 Men's World Team Championships, after Baptiste Masotti overcame Joong-won Hwang.
The Frenchman was making his first ever appearance at the World Teams, and he proved why he was picked, with a confident victory over the Korean No.3 seed.
The World No.45 took the win in just 26 minutes to secure the overall victory for France in the tie, and showing their power ahead of the quarter finals.
"It feels very good. We knew since the start that our pool would be tough, but we were able to do the job across all three games. We knew the Koreans were good players so we kept it serious to win 3-0," Masotti said.
"It was a dream for me [to appear at the World Teams]. When I was young, I could not imagine that I would play with Gregory Gaultier, for example, because he is my hero. I am over the moon to play this event, especially as the first half of the season has been good."
Castagnet Seals 3-0 Win For France
Mathieu Castagnet secured a whitewash victory for the French team over the Republic of Korea, thanks to beating Chang-Wook Woo.
The World No.26 restricted the Korean to just seven points across the first two games of their clash, and although Woo fought back, Castagnet was able to wrap up the match inside three games, to seal France's perfect record in the pool.
Results
Gregoire Marche (FRA) bt Youngjo Ko (KOR) 3-0: 12-10, 11-1, 11-7 (27m)
Baptiste Masotti (FRA) bt Joong-won Hwang (KOR) 3-0: 11-4, 11-9, 11-5 (26m)
Mathieu Castagnet (FRA) bt Chang-Wook Woo (KOR) 3-0: 11-3, 11-4, 11-9 (25m)