Home favourites USA take on Switzerland in a straight shootout to see who will book their place in the knockout stages of the WSF Men's World Team Squash Championship.
All of the action will be available to watch for free for all countries on the Men's World Team Championships Facebook page.
Egypt have already topped Pool A following two victories in the event against both Switzerland and USA in the opening two days and will move straight into the quarter finals, but one place still remains as USA and Switzerland go head-to-head in Washington DC.
Steinmann Tees Switzerland Up for Victory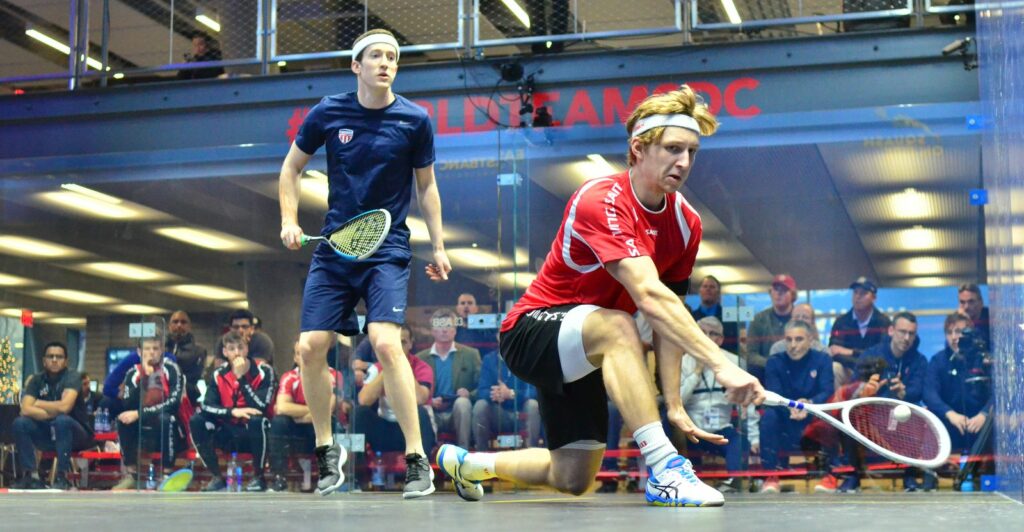 World No.66 Dimitri Steinmann has helped Switzerland in their quest to qualify for the knockout stages in Pool A after he overcame USA's World No.55 Todd Harrity in four games.
The Swiss No.2 put in a commanding performance as he prevailed against one of the home favourites Harrity to put Switzerland in pole position of landing the remaining knockout place.
Steinmann started strongly to take the opening game, before Harrity responded well to the pressure by levelling the scores in the second. The American was unable to keep up with the attacking momentum of the Swiss player though, as Steinmann broke ahead to take the vital win.
Result:
Dimitri Steinmann (SUI) bt Todd Harrity (USA) 3-1: 11-5, 5-11, 11-5, 11-5 (47m)
Douglas Levels for USA in Crucial Clash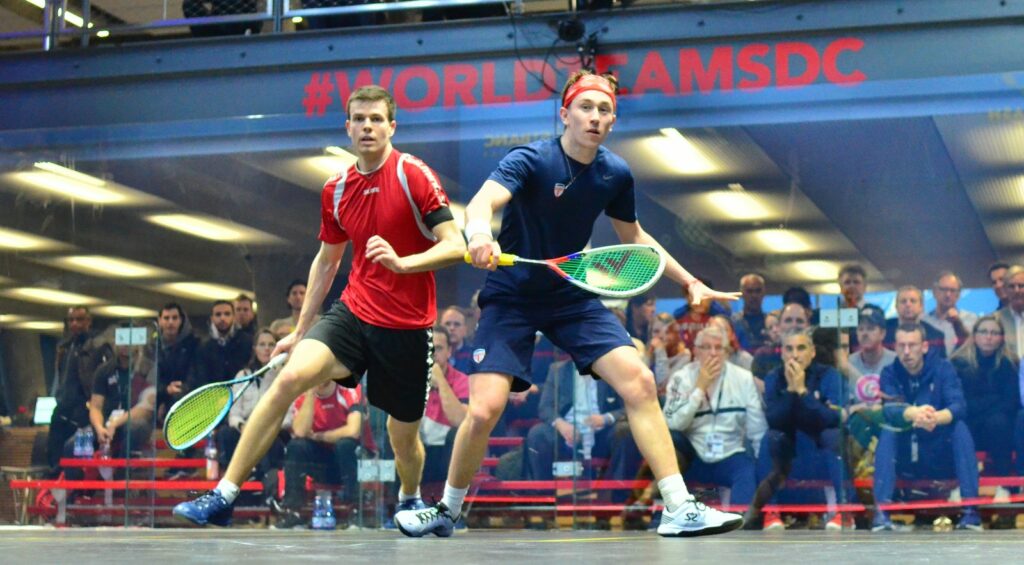 World No.113 Andrew Douglas defeated Switzerland's World No.154 Robin Gadola in straight games to level the scores for the USA in their battle to qualify for the knockout rounds.
Douglas displayed a gutsy performance under a huge amount of pressure to take the first game, before Gadola levelled the scores in the second after a lapse in concentration from the American in the second.
Douglas got his match plan back on track in the third and fourth though to close out by an 11-8, 5-11, 11-6, 11-6 scoreline and force the last match of the tie between USA's Chris Hanson and Switzerland's Reiko Peter to be the decider on who takes the last knockout spot in Pool A.
"It was a good match, I thought that Switzerland played really well," said Douglas afterwards.
"It was a tough one for me, having a lot of pressure, but I felt like I stuck in there mentally and saw it through to the end. He played well and put me under a lot of pressure, especially in the first two which I think was down to the situation, but I'm happy that I stuck in.
"I had to sort myself out after the second because I wasn't really playing, I was all over the place focusing on other things, not the match and what I had to do, but I just told myself I had to get on with it and focus."
Result:
Andrew Douglas (USA) bt Robin Gadola (SUI) 3-1: 11-8, 5-11, 11-6, 11-6 (42m)
Peter Scalps Hanson to Claim Pivotal Win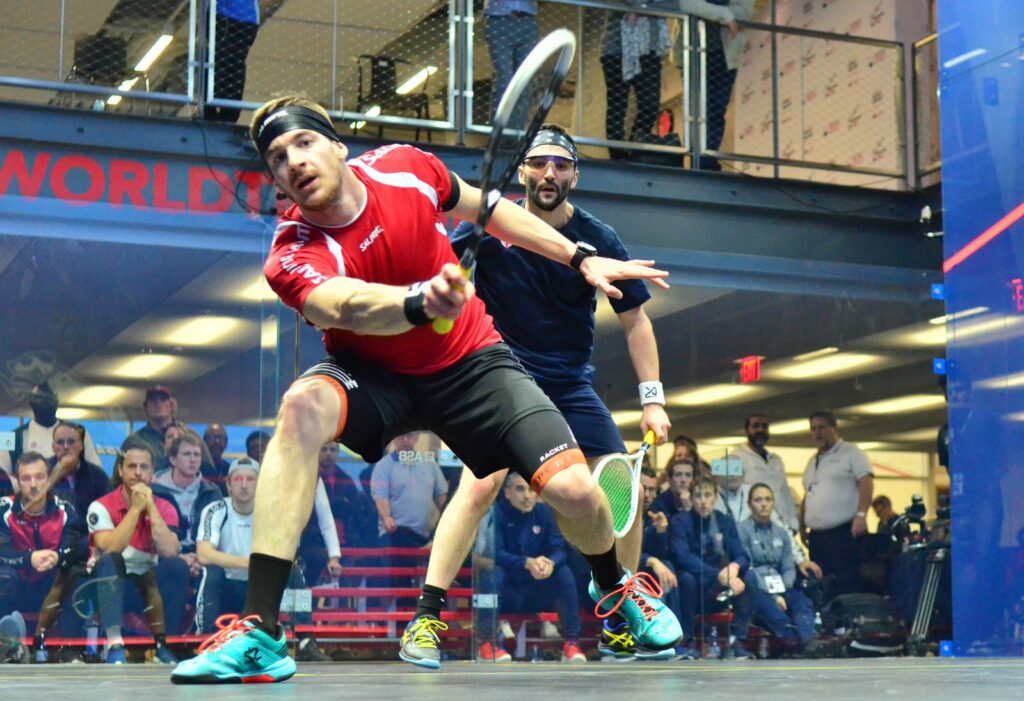 With each country taking one of the previous matches each to all came down to USA's Chris Hanson and Switzerland's Reiko Peter to see who would book their country's place in the next stage of the tournament.
Switzerland were dealt a blow before the start of the tournament with top ranked Swiss player Nicolas Mueller forced to return home due to the passing of his mum, but Peter did his compatriot proud as he produced a big performance when it mattered.
A tense first game looked to be going in the favour of Hanson, before Peters turned the tables around to fight his way back into the encounter, with the first going all the way to 15-13 on the tie-break, with Hanson squandering two game ball opportunities.
Peter continued to show his composure on the big stage as he took a two-game lead before he reigned Hanson's lead in in the third to close out in straight games and secure Switzerland's place as second in Pool A.
"We're definitely really happy with that performance," said Peter afterwards.
"I think it's the first time that we have got to the top 12 in the World Championship and especially with every thing that has happened in the background, it was a very emotional win.
"I've played a lot of really tough matches, so it's not my first time here. I just tried to stay really calm and play my game and it worked out."
Result:
Reiko Peter (SUI) bt Chris Hanson (USA) 3-0: 15-13, 11-9, 11-8 (46m)
Switzerland's coach, Pascal Bruhin, said afterwards: "We were talking about this before we got here – getting to the knockout stages and the top 12 would be the best we have ever done.  We are really happy.
"This really belongs to Nici and Bettina his Mum.  We wanted to do it for him – he was in our team for 13 years. He's our number one. He's a great guy and his family is so wonderful and it was really important for us to show him that we can stand up for him
"I really want to dedicate this to the family Mueller – they are so important to us.  Nici has been our front-runner for us for almost a decade.  He is a role model for all our juniors.  
"I couldn't be more proud of the boys tonight – what they have achieved is fantastic."