Herrera Battles Back To Defeat Hwang
Colombia's Erick Herrera has given his country a 1-0 lead in their clash with the Republic of Korea, after he defeated Joong-won Hwang in a five-game thriller.
The Colombian, who sits at World No.590, fell behind twice in the match, as he lost both the first and the third games, but he was able to battle back.
Herrera won the second game 11-3, before falling behind again. However, he finished the match strongly, winning both the fourth and the fifth games to secure the victory for his country, who need to win to keep their hopes of qualification alive.
Palomino Battles Back From Two Down To Win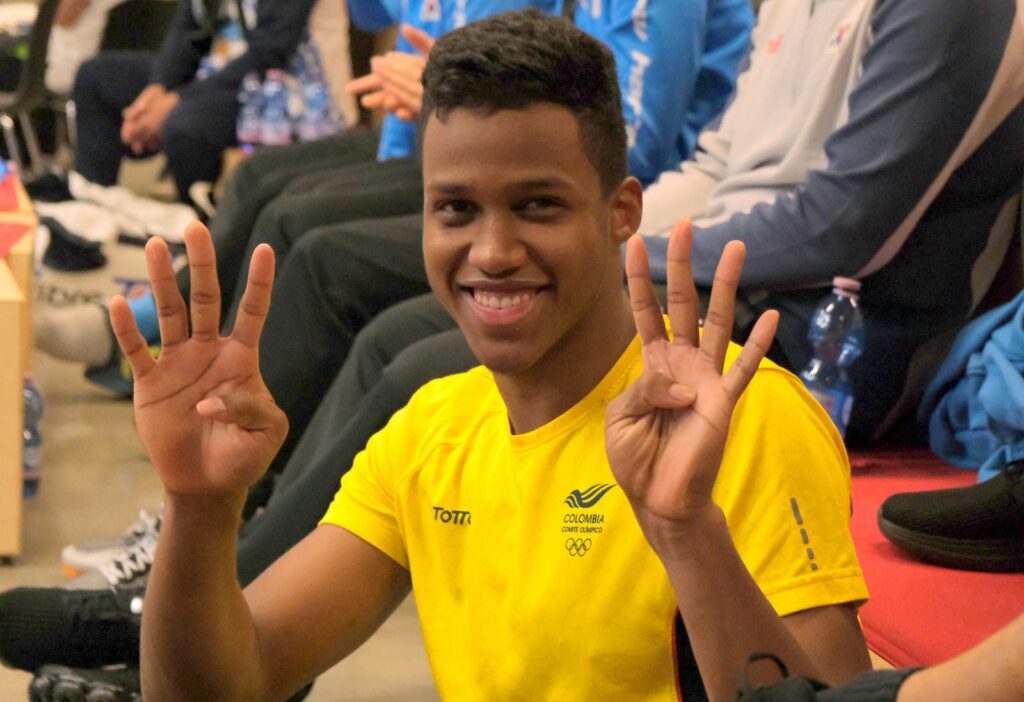 Ronald Palomino had to come back from the dead to keep Colombia's hopes of qualification alive, as he defeated Se Hyun Lee in five games.
The Colombian went two games down, but battled back, saving eight match balls in process, to win 7-11, 5-11, 11-7, 14-12, 12-10 in just under an hour.
With the win, Colombia secured victory in the overall tie, as they took an unassailable 2-0 lead against the Republic of Korea.
"I am feeling so happy because, it was a tough match so I am really happy. I was playing so bad because his hands were so good, but after the first two games, I changed a few things and it was better."
Vargas Beats Ko For Colombian Clean Sweep
Juan Camilo Vargas defeated Youngjo Ko for to secure a 3-0 victory for Colombia, as he bounced back after losing the first game.
The Colombian lost the first game 11-7, but came back to win the next three to win the match inside 40 minutes.
Results
Erick Herrera (COL) bt Joong-won Hwang (KOR) 3-2: 7-11, 11-3, 9-11, 11-8, 11-6 (59m)
Ronald Palomino (COL) bt Se Hyun Lee (KOR) 3-2: 7-11, 5-11, 11-7, 14-12, 12-10 (58m)
Juan Camilo Vargas beats Youngjo Ko (KOR) 3-1: 7-11, 11-6, 11-9, 11-7 (40m)
Alarmezi Downs Burrowes To Give Kuwait Lead
Kuwait's Ali Alarmezi has given Kuwait the early lead in their tie with Jamaica, thanks to a convincing victory over Bruce Burrowes in the first match between the nations.
Neither man has an official PSA World Ranking, but the Kuwaiti showed his class throughout the match, downing Burrowes in just twenty minutes.
He restricted the Jamaican to just six points throughout the match, including a bagel in the second game, as he won out 11-4, 11-0, 11-2.
Al Muzayen Wraps Up Kuwaiti Victory
Abdullah Al Muzayen secured victory for Kuwait in their tie with Jamaica, as he defeated Lewis Walters in the second rubber of the clash.
The Kuwaiti needed less than half an hour to get the job done over Walters, winning out 11-3, 11-7, 11-8 in 27 minutes to move his country into an unassailable lead.
Binnie Takes A Win For Jamaica
Christopher Binnie quelled any ideas of a clean sweep for Kuwait over Jamaica, as he defeated Ammar Altamimi in the final match between the two countries.
The first game took half of the match time, with 34 points being played. Binnie took the tie-break 18-16 to take the momentum, which he carried throughout the match.
He eventually won out in 37 minutes, taking the match in straight games, 18-16, 11-8, 11-3, but Jamaica are now out of contention when it comes to qualifying for the knockout stages.
Results
Ali Alarmezi (KUW) bt Bruce Burrowes (JAM) 3-0: 11-4, 11-0, 11-2 (20m)
Abdullah Al Muzayen (KUW) bt Lewis Walters (JAM) 3-0: 11-3, 11-7, 11-8 (27m)
Christopher Binnie (JAM) bt Ammar Altamimi (KUW) 3-0: 18-16, 11-8, 11-3 (37m)