Abouelghar Gives Egypt Lead With Commanding Win
World No.8 Mohamed Abouelghar put Egypt into the lead of their tie against Switzerland with a convincing performance against Cedric Kuchen.
The Egyptian star needed just 22 minutes to take the victory, in what was his first appearance of the tournament, having sat yesterday out.
Abouelghar won 11-8, 11-0, 11-4 to take the spoils, putting Egypt 1-0 up in the tie, with the two most recent World Champions still to come.
Momen Wins To Send Egypt Through To Knockout Stages
Current World Champion Tarek Momen eased his way past Switzerland's Robin Gadola to secure Egypt's place in the knockout rounds of the competition.
The reigning Men's World Team Champions will feature in the knockout rounds once more, and they will now have two days off to prepare for their last eight clash.
Gadola started the better of the two players in this clash, but it was Momen that was able to fight back to take the first 11-6, before then going on to win the second and third games to seal victory.
"I am obviously very pleased that we can now enjoy two days off before we start our quarter final campaign. It is nice to get those two matches and I am getting used to the courts at this venue. Hopefully, I will be preparing the next two days, to sharpen up so I can give it my best in the first knockout round," Momen admitted.
"I am definitely proud to be a part of this team. To have three World Champions, I am not sure if this has happened before, and then added to that, our No.4 seed is in the top eight in the world, so we are very proud to be representing our country in the best possible way."
Farag Seals Whitewash Win For Egypt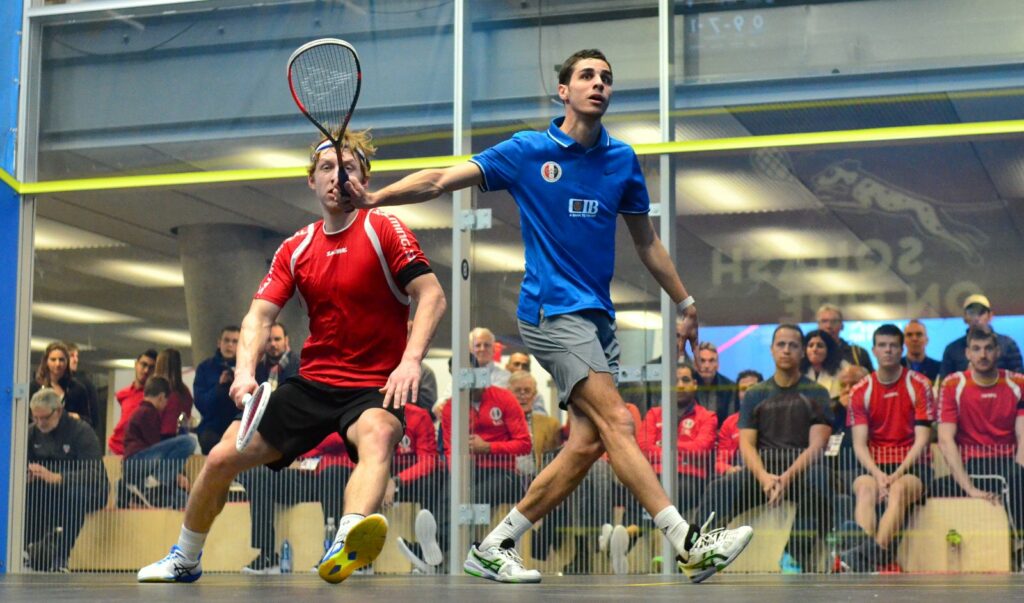 World No.1 Ali Farag had to battle, but he eventually defeated Dimitri Steinmann to secure a whitewash victory for Egypt over Switzerland.
The 2018-19 World Champion fell behind after the first game, as the Swiss No.1 seed, promoted after the withdrawal of Nicolas Mueller due to personal reasons, won it 11-9.
From there, though, Farag seemed to take control, winning the next two games 11-8 and 11-7. However, Steinmann then led 10-6 in the fourth game, and had five game balls overall, but it was the World No.1 that eventually took it to win the match 3-1, secure an overall victory in the tie.
Results
Mohamed Abouelghar (EGY) bt Cedric Kuchen (SUI) 3-0: 11-8, 11-0, 11-4 (22m)
Tarek Momen (EGY) bt Robin Gadola (SUI) 3-0: 11-6, 11-7, 11-3 (24m)
Ali Farag (EGY) bt Dimitri Steinmann (SUI) 3-1: 9-11, 11-8, 11-7, 13-11 (43m)
Stewart Gives Scotland Perfect Start Against Kiwis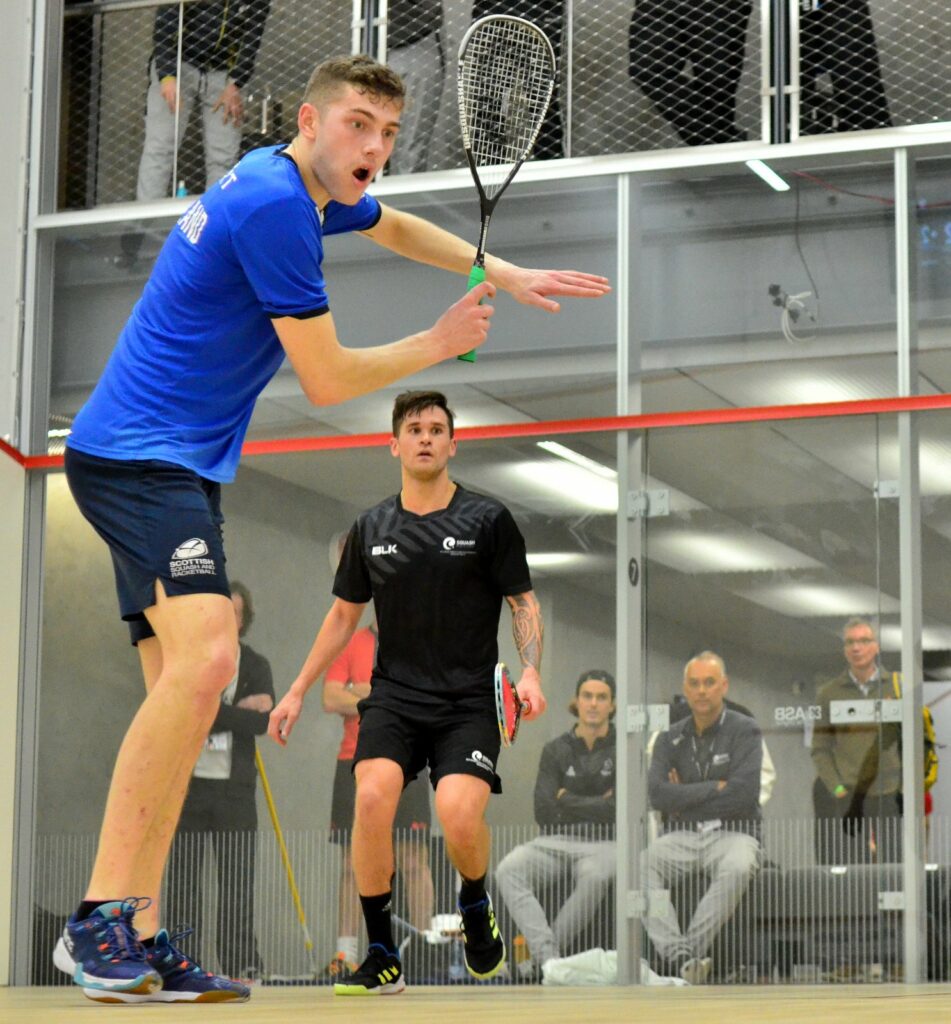 World No.124 Rory Stewart gave Scotland somewhat of a surprise lead, after beating Evan Williams, the New Zealander who sits over 30 places higher than him in the World Rankings.
Stewart took the first game rather comfortably, allowing the Kiwi just three points, but the next two games were much tougher, as Williams fought back to win the second 12-10.
The Scot then won the third by the same scoreline to wrestle the momentum back, before wining the fourth 11-1 to secure a surprise victory for his country.
Clyne Seals Shock Scotland Victory Over New Zealand
Scotland's No.2 Alan Clyne secured a huge five-game victory over Campbell Grayson, to seal the overall win for his country against the No.4 seeds New Zealand.
Clyne took the momentum from Stewart, and went out into a two-game lead in quick fashion, but Grayson fought back, saving a match ball in the fourth to bring it back to 2-2.
However, Clyne pushed up into another gear in the deciding game, taking it 11-4 to seal a victory that puts Scotland top of Pool D.
"It is definitely a surprise victory. We went in wanting to win but all their players were ranked above us. Rory [Stewart] played unbelievable in the first match and I was playing quite well to start with. Campbell came back strong but thankfully I was able to finish well in the fifth," Clyne explained.
"I know what Rory can do, I know he can play really good squash. He hasn't quite shown that on the PSA World Tour, but the bits I saw, he showed his talent with the racket, following on from how well he played in the Europeans last year.
"When we saw the draw, we were quite happy to be in that group as it gave us a chance to make it automatically into the quarter finals. We finished 8th last time, so if we beat Ireland tomorrow then we are assured of at least the same, but we want more than that!"
Coll Puts New Zealand On The Board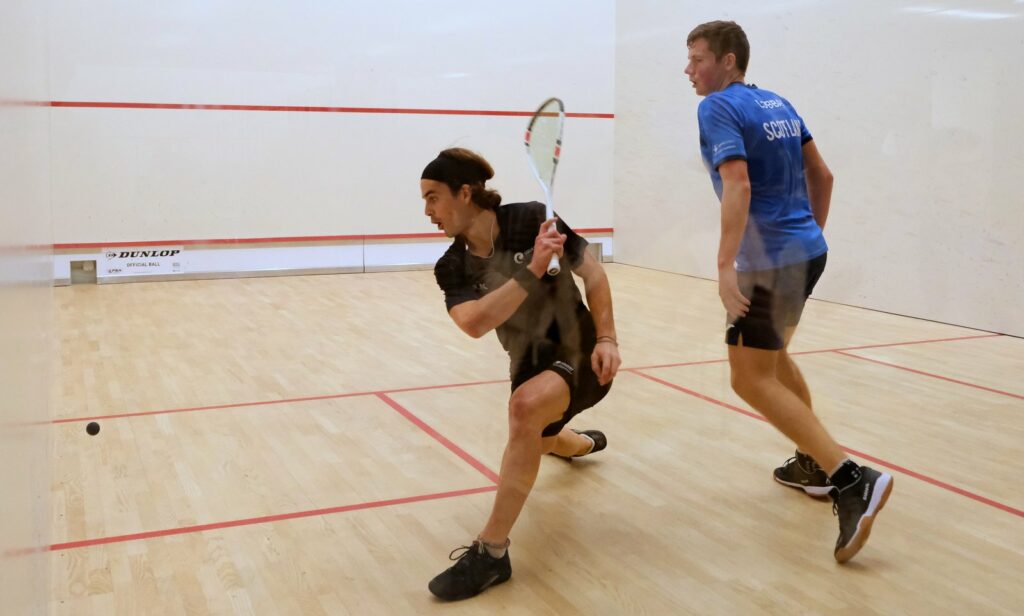 The final game of the tie turned out to be a dead rubber, but Paul Coll got one back for New Zealand, as he overcame Greg Lobban in the battle of the No.1s.
Coll restricted the Scotsman to just 15 points across the entire match, as he secured an 11-5, 11-4, 11-6 victory to see New Zealand finish the tie 2-1 down.
Results
Rory Stewart (SCO) bt Evan Williams (NZL) 3-1: 11-3, 10-12, 12-10, 11-1 (62m)
Alan Clyne (SCO) bt Campbell Grayson (NZL) 3-2: 11-8, 11-4, 7-11, 10-12, 11-4 (84m)
Paul Coll (NZL) bt Greg Lobban (SCO) 3-0: 11-5, 11-4, 11-6 (28m)
Logan Downs Tong To Give Ireland Early Lead
Oisin Logan gave Ireland the perfect start to their second match of the week, as he defeated Singapore's Chua Man Tong in straight games.
Logan, who does not have an official PSA World Ranking, restricted the Singaporean player to just nine points in the entire match, as Ireland look to bounce back from a defeat to New Zealand on the opening day.
He won out 11-3, 11-4, 11-2 to secure a comfortable victory in just 25 minutes, setting Ireland o the right path to staying alive in the competition.
"Yesterday, I had a tough one against Campbell [Grayson], who is at his highest ever ranking and I am not even on the pro tour, so I felt like there was a bit of a gap there," Logan admitted.
"I felt like I was a bit closer today and I was able to exert my game instead of scraping around the back of the court like I was doing yesterday, so I am happy with the performance and happy to get through in three.
"This is the pinnacle for me, this is what I train for all year long, especially not playing on the pro tour. I also went to college down the road so I have been in D.C. for four years, so there is nothing better."
Gaskin Seals Irish Victory Over Singapore
Arthur Gaskin has secured victory for Ireland to give his country a chance of advancing through to the knockout stages, after he defeated Chua Man Chin.
The Irishman won the first game comfortably, allowing the Singaporean No.2 seed just two points, but the second game was much tougher.
It went all the way to a tiebreak, but Gaskin took it 15-13 to keep the momentum, which allowed him to win the match, securing Ireland's first win of the tournament so far.
Conroy Secures Irish Whitewash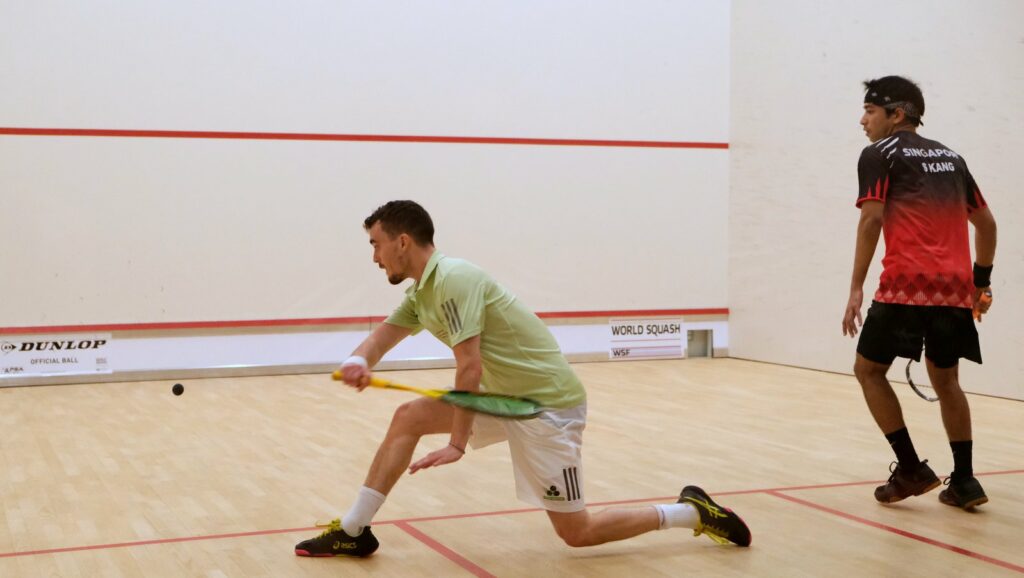 No.1 seed Sean Conroy made it 3-0 to Ireland in their tie against Singapore, as he defeated Samuel Kang in four games in Washington.
The Irishman secured the first game 11-8, but Kang fought back to take the second on a tie-break. However, the Singaporean was restricted to just nine points in the final two games.
He won them 11-5, 11-4 to give Ireland a 3-0 victory over Singapore, meaning the Asian country can now no longer qualify for the knockout stages.
Results
Oisin Logan (IRL) bt Chua Man Tong (SGP) 3-0: 11-3, 11-4, 11-2 (25m)
Arthur Gaskin (IRL) bt Chua Man Chin (SGP) 3-0: 11-2, 15-13, 11-4 (34m)
Sean Conroy (IRL) bt Samuel Kang (SGP) 3-1: 11-8, 10-12, 11-5, 11-4 (39m)