Action continues today at the WSF Men's World Team Championship held in Washington D.C. in the United States of America. Up first on the glass court is Germany v Spain in a crucial clash to see who will qualify for the knockout stages.
All of the action will be available to watch for free for all countries on the Men's World Team Championships Facebook page.
Court one will see an all-European clash between Germany and Spain with the likes of Simon Rosner, Borja Golan Iker Pajares and Raphael Kandra all in action in one of the big clashes of the day.
Ribadas Takes Big Win as Rohrmuller Forced to Retire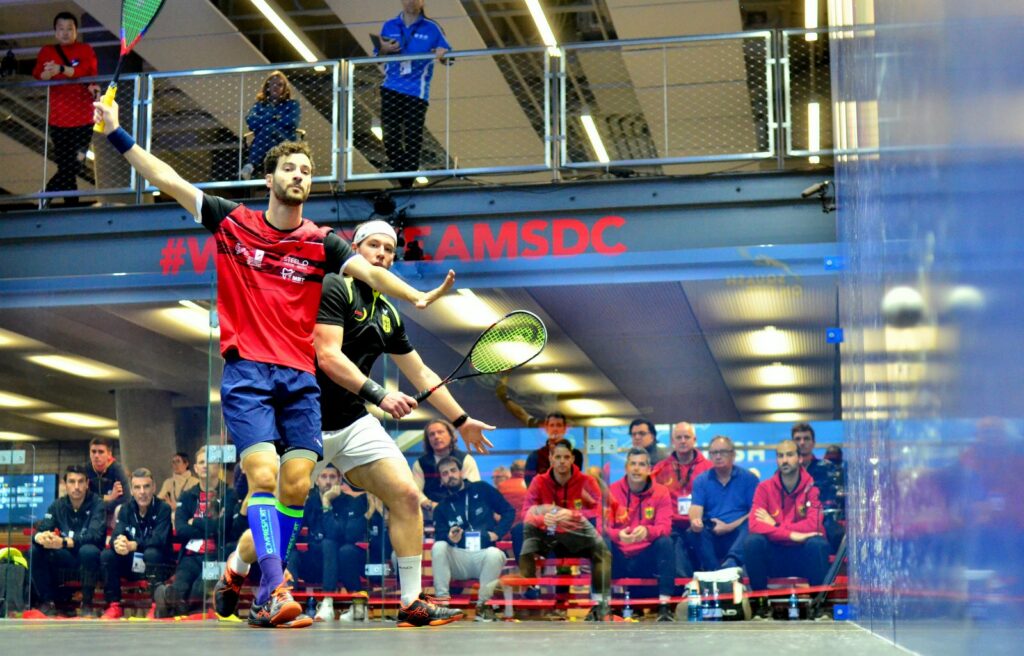 World No.26 Carlos Cornes Ribadas claimed a big win for Spain in the opening match of their tie against Germany as Rudi Rohrmuller was forced to retire in the fourth game due to injury, with the winners of the tie booking their place in the knockout stages.
Rohrmuller started strongly in just his third meeting against Ribadas, with the head-to-head tied at 1-1, as he claimed a tightly contested first game to set up a German advantage.
Ribadas, buoyed on by the support of his teammates, was able to come back well though to level the scores before easing into a 2-1 lead.
Disaster struck for Rohrmuller in the fourth, however, to bring a premature end to the match as the German slipped at the front of the court and was forced to retire from the match due to an ankle injury leaving Spain in a strong position to book their place in the next round of the tournament.
Result:
Carlos Cornes Ribadas (ESP) bt Rudi Rohrmuller (GER) 3-1: 7-11, 11-5, 11-4, 4-2 retired (53m)
Pajares Seals Huge Win for Spain
World No.33 Iker Pajares sealed Spain's first victory over Germany since 1989 after he overcame World No.28 Raphael Kandra in four games in Washington DC.
Kandra held the advantage in the players' head-to-head record, with five wins to Pajares' one. However, that counted for little as the Spaniard produced a big performance when it mattered to lead his country into the knockout stage of the tournament.
Pajares took the first game, before Kandra fought back in the second. Two more close games ensued with the two players pushing each other into all four corners of the court. Barcelona-born Pajares was forced to take an injury break at 4-4 in the fourth but battled through the barrier to seal the 11-8, 9-11, 11-8, 11-7 victory in 64 minutes.
"We still have one more match tomorrow against Argentina," said the Spaniard afterwards. "It was a very good win for the team and for me as well. I felt very confident and very sharp on court.
"I wasn't calm, we had to win this match and I made it. We had Carlos in a very good shape as well, he won a tournament a few weeks ago. We are all playing our best squash I think and we want to have a good tournament, we've trained very hard for it, so hopefully we can make it this year."
Result:
Iker Pajares Bernabeu (ESP) bt Raphael Kandra (GER) 3-1: 11-8, 9-11, 11-8, 11-7 (64m)
Germany's Rosner Powers Past Golan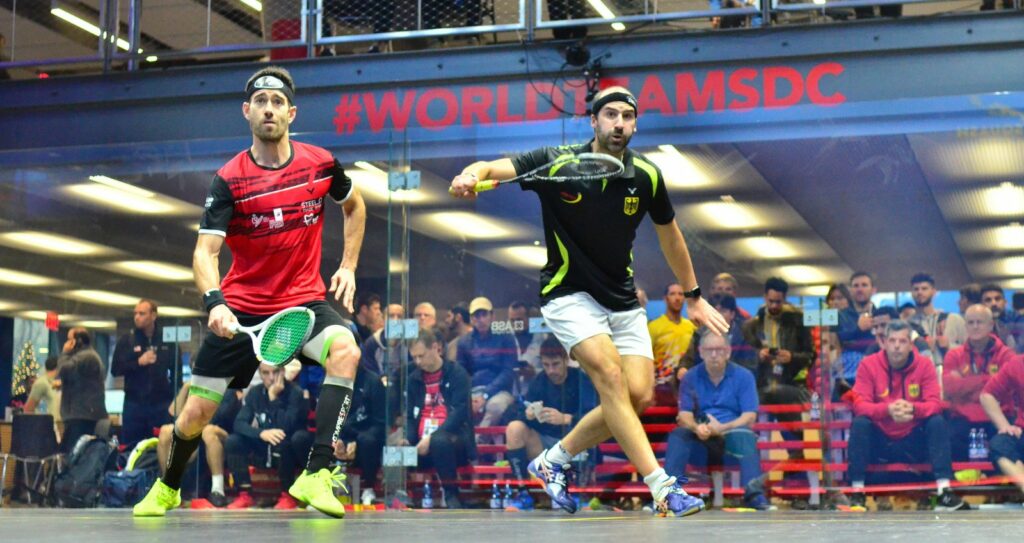 Germany's World No.6 Simon Rosner powered past Spain's former World No.5 Borja Golan to take a game for Germany in their 2-1 loss to Spain on court one.
Germany's World No.6 Simon Rosner powered past Spain's former World No.5 Borja Golan to take a game for Germany in their 2-1 loss to Spain on court one.
The German was in dominant form to take the last match from experienced Spaniard Golan, unfortunately for the German No.1 though it did not help his country take the victory following earlier victories from Spain's Carlos Cornes Ribadas and Iker Pajares.
Result:
Simon Rösner (GER) bt Borja Golan (ESP) 3-0: 11-3, 11-6, 11-9 (31m)