Action continues today for the second day at the WSF Men's World Team Championship held in Washington D.C. in the United States of America. There will be action taking place across all four courts at Squash on Fire and you will be able to make sure you don't miss any of the action.
All of the action will be available to watch for free for all countries on the Men's World Team Championships Facebook page.
Court one will see an all-European clash between Germany and Spain with the likes of Simon Rosner, Borja Golan Iker Pajares and Raphael Kandra all in action on court one. The winner of the tie will qualify for the knockout stages of the tournament.
They are followed by France v Malaysia before Hong Kong China v Australia completes the day's play on court one.
On court eight, Egypt face Switzerland with the defending champions looking to keep their winning streak going to qualify for the knockout stages. They are followed on court by Colombia v Korea and England v Wales in the battle of the Brits.
On court seven, New Zealand face Scotland in a top of the table clash to see who will book their place in the next round with Paul Coll and Greg Lobban both in action. Following them on court is Jamaica v Kuwait and Argentina v South Africa.
On court six there are two ties with Ireland facing Singapore and then Canada v Nigeria in the last match of the day.
Matches start at 12:00 local time (EST) and you can find the schedule for each court below.
Court 1: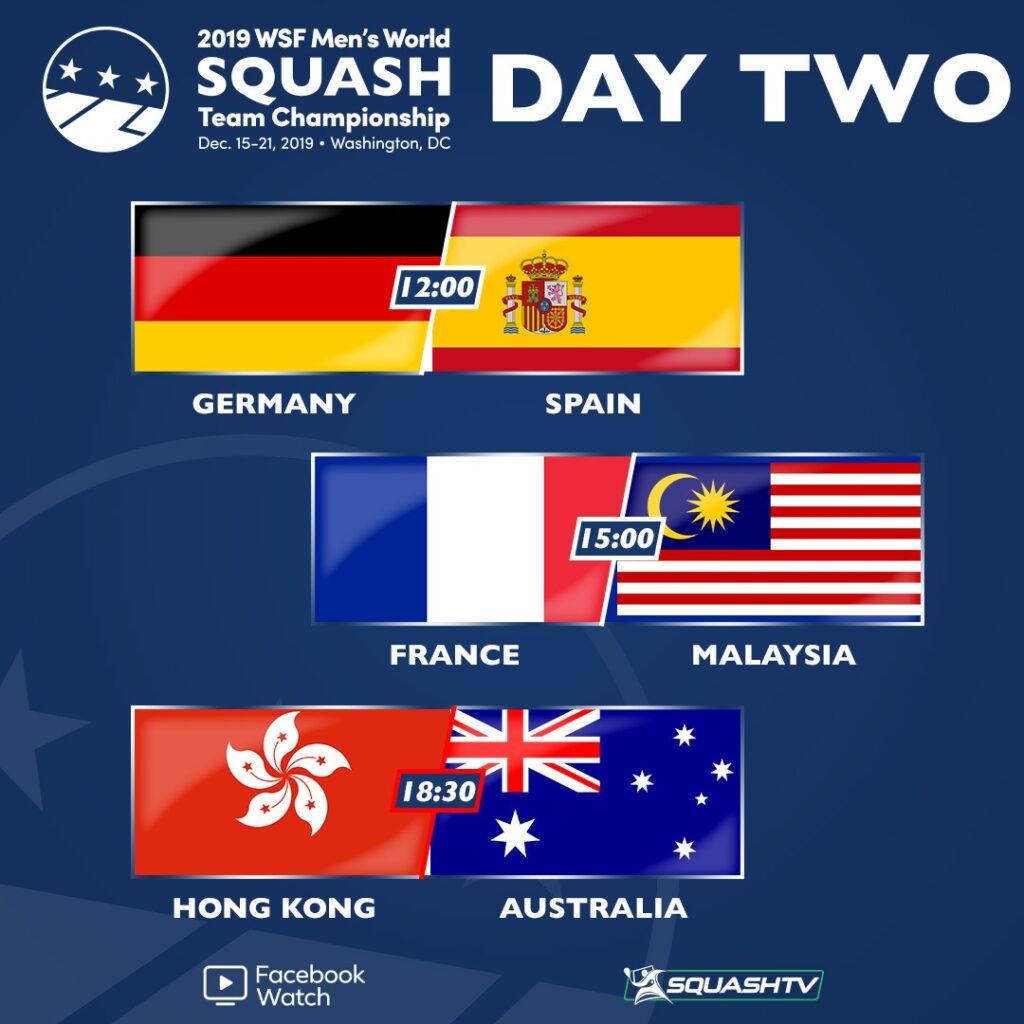 12:00 Germany v Spain
15:00 France v Malaysia
18:30 Hong Kong China v Australia
Court 8:
12:00 Egypt v Switzerland
15:00 Colombia v Korea
18:30 England v Wales
Court 7:
12:00 New Zealand v Scotland
15:00 Jamaica v Kuwait
18:30 Argentina v South Africa
Court 6:
12:00 Ireland v Singapore
18:30 Canada v Nigeria