The second day of action at the 2019 Men's World Team Squash Championship in Washington, DC, saw underdogs Scotland and Spain prevail against higher seeds New Zealand and Germany to secure stunning victories and send shockwaves through the event, taking place at Squash On Fire.
Scotland, the number nine seeds, took an unexpected early lead against number four seeds New Zealand courtesy of World No.124 Rory Stewart as he came through to beat Evan Williams – the New Zealander who sits over 30 places higher than him in the World Rankings.
Stewart took the first game rather comfortably, allowing the Kiwi just three points, before going on to win the fourth 11-1 to secure a surprise victory for his country.
After watching compatriot Stewart come through, an inspired Alan Clyne, Scottish number two, then came through a gruelling and nervy five-game battle with Campbell Grayson to secure the tie and secure Scotland a place in the knock-out stages.
Clyne, the world No.39, was looking for his first win over Grayson after three defeats and took the momentum from Stewart and went out into an early two-game lead, but looked like to be stumbling as Grayson fought back, saving a match ball in the fourth, to tie the match at 2-2.
However, Clyne pushed up into another gear in the deciding game, taking it 11-4 to seal a victory that puts Scotland top of Pool D.
"It is definitely a surprise victory. We went in wanting to win but all their players were ranked above us. Rory [Stewart] played unbelievable in the first match and I was playing quite well to start with. Campbell came back strong but thankfully I was able to finish well in the fifth," Clyne explained.
"I know what Rory can do, I know he can play really good squash. He hasn't quite shown that on the PSA World Tour, but the bits I saw, he showed his talent with the racket, following on from how well he played in the Europeans last year.
"When we saw the draw, we were quite happy to be in that group as it gave us a chance to make it automatically into the quarter finals. We finished 8th last time, so if we beat Ireland tomorrow then we are assured of at least the same, but we want more than that!"
Joining Scotland in the latter stages of the event are Spain after the number eight seeds produced a breakthrough result to beat Germany, the fifth seeds, for the first time since 1989.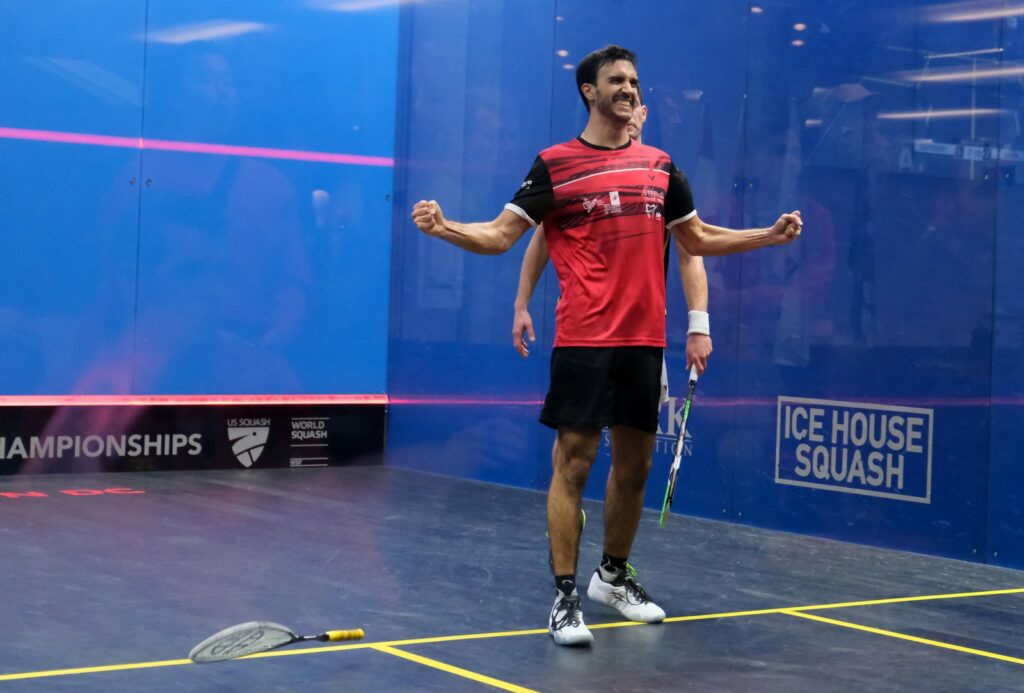 The opening match in the tie saw German Rudi Rohrmuller retire through injury, handing Spain a 1-0 lead, but then Iker Pajares produced one of the best performances of his career as he prevailed in a 64-minute encounter with Raphael Kandra – winning 11-8, 9-11, 11-8, 11-7 – to seal the win for the Spanish.
"We still have one more match tomorrow against Argentina," said Pajares afterwards. "It was a very good win for the team and for me as well. I felt very confident and very sharp on court.
"I wasn't calm, we had to win this match and I made it. We had Carlos in a very good shape as well, he won a tournament a few weeks ago. We are all playing our best squash I think and we want to have a good tournament, we've trained very hard for it, so hopefully we can make it this year."
There was also an upset win for Kuwait in Pool F as the 21 seeds defeated 17th-seeded Jamaica – just 24 hours after testing Australia to the limit.
Kuwaitis Ali Alramezi and Abdullah Al Muzayen earned straight games wins while the other tie in Pool F saw Hong Kong secure their first ever victory over eight-time champions Australia.
With the fixtures tied at one win apiece, Australian Ryan Cuskelly was forced to retire against Leo Au due to injury – handing Hong Kong an historic win.
"I'm happy to be at the top of the pool at the moment, but we didn't want to win in this way," said Hong Kong coach Faheem Khan. "I feel really sorry for Ryan that he couldn't finish the match.
"But we had confidence that we could win tonight – we knew we had a chance. But we didn't expect to do it this way!"
Elsewhere second seeds England defeated Wales 3-0, while France overcame Malaysia and Egypt overcame Switzerland, both also 3-0, to book their berths in the knockout stages.
The other winners on day two were Argentina, Ireland, Colombia and Canada.
Action from the WSF Men's World Team Squash Championship continues tomorrow (December 17) at 12:00 local time (GMT-5) with all matches shown live on the official Facebook page of the Men's World Team Championship. For more information on the tournament, follow the event on Twitter, Facebook, Instagram, or visit www.worldteamsquashdc.com.
2nd qualifying round – Pool A:
[1] EGYPT bt [15] SWITZERLAND 3-0
Mohamed Abouelghar (EGY) bt Cédric Kuchen (SUI) 3-0: 11-8, 11-0, 11-4 (22m)
Tarek Momen (EGY) bt Robin Gadola (SUI) 3-0: 11-6, 11-7, 11-3 (24m)
Ali Farag (EGY) bt Dimitri Steinmann (SUI) 3-1: 9-11, 11-8, 11-7, 13-11 (43m)
Pool B:
[2] ENGLAND bt [11] WALES 3-0
Daryl Selby (ENG) bt Owain Taylor (WAL) 3-0: 11-6, 11-7, 13-11 (37m)
James Willstrop (ENG) bt Peter Creed (WAL) 3-2: 11-5, 11-7, 9-11, 9-11, 11-4 (54m)
Adrian Waller (ENG) bt Joel Makin (WAL) 3-1: 11-9, 11-9, 9-11, 11-8 (56m)
[14] CANADA bt [23] NIGERIA 3-0
David Baillargeon (CAN) bt Adewale Amao (NGR) 3-0: 11-9, 12-10, 11-3 (38m)
Nick Sachvie (CAN) bt Sodiq Oluwatobi Taiwo (NGR) 3-0: 11-7, 11-2, 11-7 (27m)
Shawn DeLierre (CAN) bt Babatunde Ajagbe (NGR) 3-2: 14-12, 6-11, 8-11, 11-5, 11-9 (59m)
Pool C:
[3] FRANCE bt [10] MALAYSIA 3-0 
Mathieu Castagnet (FRA) bt Addeen Idrakie (MAS) 3-0: 11-4, 11-2, 11-4 (26m)
Gregory Gaultier (FRA) bt Ivan Yuen (MAS) 3-0: 11-8, 11-7, 11-6 (38m)
Gregoire Marche (FRA) bt Eain Yow Ng (MAS) 3-1: 11-8, 6-11, 11-1, 11-7 (46m)
[13] COLOMBIA bt [22] REPUBLIC OF KOREA 3-0
Erick Herrera (COL) bt Joong-Won Hwang (KOR) 3-2: 7-11, 11-3, 9-11, 11-8, 11-6 (59m)
Ronald Palomino (COL) bt Se Hyun Lee (KOR) 3-2: 7-11, 5-11, 11-7, 14-12, 12-10 (58m)
Juan Camilo Vargas (COL) bt Youngjo Ko (KOR) 3-1: 7-11, 11-6, 11-9, 11-7 (40m)
Pool D:
[9] SCOTLAND bt [4] NEW ZEALAND 2-1
Rory Stewart (SCO) bt Evan Williams (NZL) 3-1: 11-3, 10-12, 12-10, 11-1 (61m)
Alan Clyne (SCO) bt Campbell Grayson (NZL) 3-2: 11-8, 11-4, 7-11, 10-12, 11-4 (84m)
Paul Coll (NZL) bt Greg Lobban (SCO) 3-0: 11-5, 11-4, 11-6 (28m)
[18] IRELAND bt [20] SINGAPORE 3-0
Oisin Logan (IRL) bt Chua Man Tong (SGP) 3-0: 11-3, 11-4, 11-2 (25m)
Arthur Gaskin (IRL) bt Chua Man Chin (SGP) 3-0: 11-2, 15-13, 11-4 (34m)
Sean Conroy (IRL) bt Samuel Kang (SGP) 3-1: 11-8, 10-12, 11-5, 11-4 (39m)
Pool E:
[8] SPAIN bt [5] GERMANY 2-1
Carlos Cornes Ribadas (ESP) bt Rudi Rohrmuller (GER) 3-1: 7-11, 11-5, 11-4, 4-2 retired (53m)
Iker Pajares Bernabeu (ESP) bt Raphael Kandra (GER) 3-1: 11-8, 9-11, 11-8, 11-7 (64m)
Simon Rösner (GER) bt Borja Golan (ESP) 3-0: 11-3, 11-6, 11-9 (31m)
[16] ARGENTINA bt [19] SOUTH AFRICA 2-1
Gonzalo Miranda (ARG) bt Gary Wheadon (RSA) 3-1: 12-10, 7-11, 11-4, 11-9 (53m)
Leandro Romiglio (ARG) bt Christo Potgieter (RSA) 3-0: 11-4, 11-8, 11-7 (40m)
Jean-Pierre Brits (RSA) bt Robertino Pezzota (ARG) 3-2: 13-11, 12-10, 2-11, 5-11, 11-9 (73m)
Pool F:
[6] HONG KONG CHINA bt [7] AUSTRALIA 2-1
Tsz Fung Yip (HKG) bt Rex Hedrick (AUS) 3-0: 11-7, 12-10, 14-12 (42m)
Cameron Pilley (AUS) bt Max Lee (HKG) 3-0: 11-3, 11-4, 11-3 (20m)
Leo Au (HKG) bt Ryan Cuskelly (AUS) 3-1: 10-12, 11-9, 1-1 retired (29m)
[21] KUWAIT bt [17] JAMAICA 2-1
Ali Alarmezi (KUW) bt Bruce Burrowes (JAM) 3-0: 11-4, 11-0, 11-2 (20m)
Abdullah Al Muzayen (KUW) bt Lewis Walters (JAM) 3-0: 11-3, 11-7, 11-8 (27m)
Christopher Binnie (JAM) bt Ammar Altamimi (KUW) 3-0: 18-16, 11-8, 11-3 (37m)